Five years ago Porsche wowed the crowds attending that year's Paris Motor Show with the introduction of the Sport Turismo concept car. Fast forward a few years and this concept car transformed into a production car ready for us to test.
With hindsight that Sport Turismo concept previewed a lot of styling elements introduced on the second generation Panamera last year. That is the main reason it took longer than we had hoped to bring the Sport Turismo to market. Yes, I will not lie – I'm quite a fan of the look of the Sport Turismo concept.
Going from concept to production it might have lost a bit of it's sexiness but I still dig the shooting brake style look of the new Porsche Panamera Sport Turismo. For the US market the Sport Turismo may be particular good news; while most appealing 'wagons' like the RS6 Avant are not being sold in the US, Porsche did decide to sell the Sport Turismo in the United States from November 2017.
Porsche Panamera Turbo Sport Turismo
Engines & Performance
The Porsche Panamera Sport Turismo will be available with five different powertrains. Ranging from a V6 turbo engine to the range topping V8 biturbo engine.
Panamera 4 Sport Turismo:
V6 turbo; 243 kW (330 hp); 450 Nm; 259 km/h; 0–100 km/h in 5.5 s / 5.3 s.
Panamera 4 E-Hybrid Sport Turismo:
V6 biturbo plugin hybrid; 340 kW (462 hp); 700 Nm; 275 km/h; 0–100 km/h in 4.6 s.
Panamera 4S Sport Turismo:
V6 biturbo; 324 kW (440 hp); 550 Nm; 286 km/h; 0-100 km/h in 4.4 s / 4.2 s.
Panamera Turbo Sport Turismo:
V8; 404 kW (550 hp); 770 Nm; 304 km/h; 0-100 km/h in 3.8 s / 3.6 s.
Panamera 4S Diesel Sport Turismo:
V8 diesel; 310 kW (422 hp); 850 Nm; 282 km/h; 0-100 km/h in 4.5 s / 4.3 s.
0-100 km/h values without / with Sport Chrono Package.
I received the keys to a 550hp and 770Nm strong Panamera Turbo Sport Turismo. My colleague Niels tested the normal Panamera Turbo last year but for me it was the first time in the new Panamera and I was very surprised to say the least. The plethora of buttons have been replaced with slick looking touch screens but some essentials like a button to zoom the nav map in and out have been retained.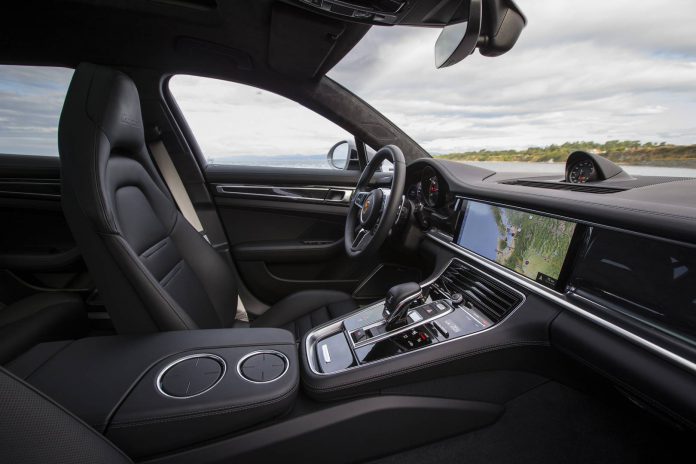 The interior looks very slick and provides pretty much everything you can desire in a luxury four-seater GT. From seat cooling to high-end audio, it is all available. One of the major upsides the Sport Turismo offers over the standard Panamera is the increased luggage space and head room in the rear seats. The Sport Turismo comes with a 4+1 setup as standard with a rear bench replacing the two seats found in the rear of the normal Panamera. The access to the luggage area is lower so it's easier to put skis or golf bags in the back. Altogether the Sport Turismo is a lot more practical.
What did not change is the handling. If you wouldn't know any better it is easy to believe you are steering a two seater sports car. It just loves corners. And with the three different suspension settings; comfort, sport and sport+ it delivers a wide enough bandwidth to provide comfort on long journeys and rough roads but at the same time give the Sport Turismo the ability to have proper fun on the race track – not that I believe many customers will, but it is nice to know that they can.
The infotainment is a huge step up over the last generation Panamera. Porsche created completely new software with a clear menu structure and haptic feedback on the touch screen. It is very intuitive, rich of functionality and easy to use. Which makes it one of the best infotainment systems available in the luxury market right now.
What to spec?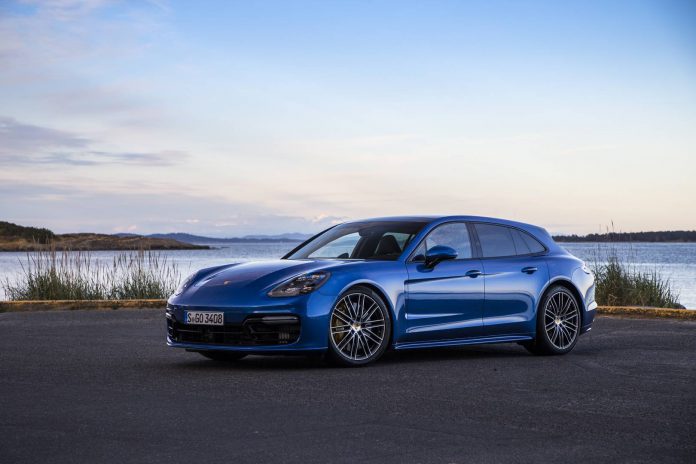 We had a look at the optional extras equipped in our test car and here is what we recommend:
– PDCC Sport – Dynamic Chassis Control allows you to adjust the suspension between three different modes. Also reduces body roll and improves cornering performance thanks to torque vectoring.
– Sport Chrono Package – Adds a Sport Plus drive mode, launch control and the Porsche typical timer in the dashboard.
– Sport Exhaust – A must for some sportier tunes.
– Seat cooling – Most pleasant and indirect air-conditioning.
– Lane Keeping Assistant & Porsche InnoDrive Adaptive Cruise – The predictive adaptive cruise control adds a new dimension of driving assistance systems. Together with lane keeping assistance it can almost drive autonomously in traffic jams and on b-roads. But always keep your eyes on the road.
– Burmester Sound System – the best high-end audio system available on four wheels.
Conclusion
It is really hard to find anything I dislike about the new Porsche Panamera Turbo Sport Turismo. All my feedback on the previous generation Panamera; mainly about the interior design and infotainment have been addressed and the good things including the sports car-like performance and handling are even better than before.
Thinking long and hard about what I dislike about it there is only one thing that keeps coming back to mind and that is the price. Starting at around 158,000 euro in Germany you can expect to add another 25,000 or so in optional extras but for that money you get the best car in the segment.