The dolomites are famous for their outstanding hospitality and extensive skiing possibilities but for some reason I had never been there. That changed with a recent visit to the Hotel Adler Dolomiti Spa & Sport resort in Ortisei. This five star hotel has welcomed guests to the Val Gardena valley for over 200 years. Keep reading to find out why Val Gardena and the Adler Dolomiti have earned a top spot in my personal list of favorite destinations.
Location
The Adler Dolomiti resort is located in heart of the Ortisei town with dozens of (upscale) shops and restaurants directly within walking distance of the hotel. Set in a private 9,000 m2 park connected to the pedestrian area the hotel has a long history. Over the last 200 years it continuously expanded and added new buildings and area to the resort which adds a certain charm.
The town of Ortisei is also known as Sankt Ulrich and is part of the Val Gardena ski area. From the hotel you can chose to either walk hundred meters to the Seceda gondola or take the complimentary shuttle bus that takes you directly from one of the two ski rooms to the Seiser Alm gondola.
On the first day of our stay we explored the Seiser Alm ski area which is located on a beautiful plateau with panoramic views all around. The slopes are mostly suitable for beginners and families with kids but even for advanced skiers the views and the beautiful traditional huts serving mouth watering Italian and South Tyrolean food make Seiser Alm worth a visit.
Val Gardena is part of Dolomiti Superski – a collection of ski resorts with over 1,200 kilometers of slopes you can all enjoy with a single ski pass. Not far away from Sankt Ulrich and the hotel you can find the Sella Ronda – a ski tour around the Sella mountain range of about 30 kilometers. The entire route goes via marked pistes and is suitable for intermediate skiers. You can chose to do Sella Ronda either clock-wise or counter clock-wise. We chose to drive to Selva aka Wolkenstein by car to start our Sella Ronda tour although if you are a fast skier, start early and take few breaks you can theoretically start and finish at the hotel. Alternatively you can take the ski bus from Ortisei to Selva and start there. The tour is indicated with orange or green signs depending on which way you are going. Sella Ronda was one of my ski highlights the last couple of years and well worth the extra effort.
Besides shops and restaurants you will find a few apres ski bars in Ortisei but for clubs and other nightlife activities you have to go to Selva about 15 minutes away. The center of Ortisei is car free and you can only reach the hotel by car passing a special barrier. The hotel garage is large enough for all SUVs except the G63 6×6. The hotel also offers a shuttle service from the nearest airports and train stations including Bolzano, Innsbruck and Verona.
Rooms & Suites
The Hotel Adler Dolomiti has exactly 100 rooms ranging from 25 m2 single and double rooms to 80 m2 family suites. We were staying in a Superior double room in the Vital Residenz, room number 809. A separate building connected to the resort via a hall way. The rooms feature a lot of wood and warm tones that give it a traditional alpine feel. The rooms are well equipped with a separate bath tub and shower, flat screen tv and large balcony. The beds are comfortable and it is a great place to relax after a long day skiing.
Spa & Facilities
Not that you really need to spend any time in the room to relax though. The Adler Dolomiti resort offers a 3,500 m2 spa and wellness area with two different indoor- and outdoor pools, waterfalls, jacuzzis and a dozen or so different sauna and steam baths. Just in the spa you can spend a day or two without even having seen or done everything.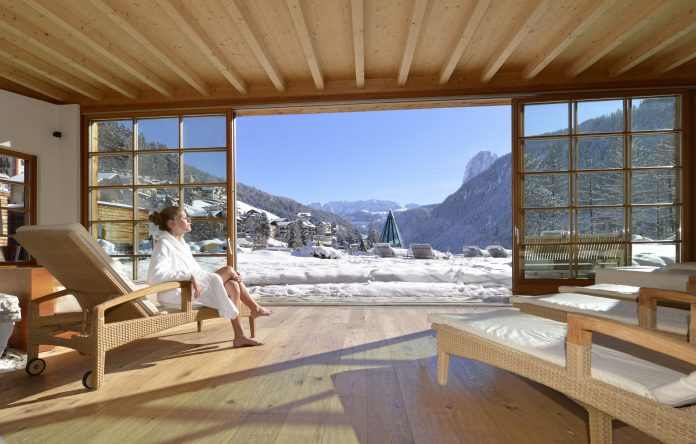 The panorama sauna offers a great view of the mountains surrounding the hotel. Right outside is a jacuzzi and a rest area where you can relax by the sound and smell of burning wood in the fire place.
In addition to the salt water pools, saunas and steam rooms there is a large treatment area where a team of specialists offers massages, beauty treatments, Ayurveda, bio cosmetics and more. I enjoyed a sport massage which was a great relief for the muscles after a long and hard day skiing. There is also a fully equipped gym with personal trainers – although we preferred to exercise with our skis in the fresh mountain air.
Restaurants & Bar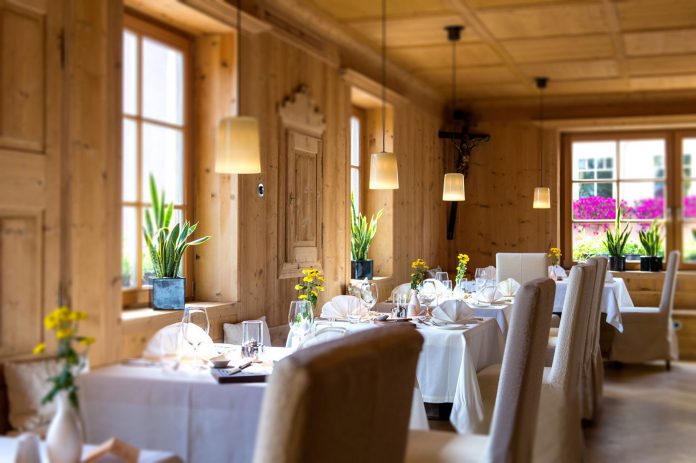 The main restaurant serves breakfast and dinner every day. The breakfast buffet is among the most extensive we have come across. In the evening guests can chose between a few set menus or pick dishes of their liking a la carte style. Even if you fancy something that is not on the menu they are always happy to accommodate your wishes. Services was very professional yet friendly and personal – just the way we like it.
In addition to the courses served to your table there is a large salad or starter buffet that would be sufficient for a full dinner. Impressive! The hotel has an extensive wine collection and we were pleased to find a large collection of very good wines for very affordable prices. Something which is unusual in five star hotels and give the Adler Dolomiti a very sympathetic appearance.
The bar is located on the same floor as the grande reception area. Here you can have lunch inside or on the terrace outside. And every afternoon a selection of complimentary snacks, salads and cakes are being served here. In the evening there is live music with a certain theme.
Conclusion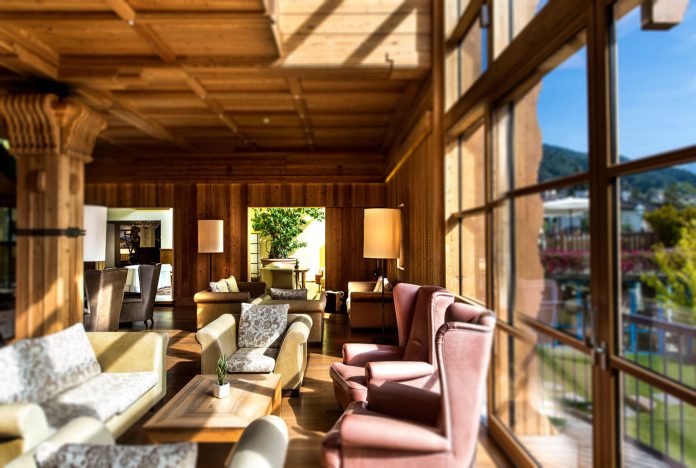 The Adler Dolomiti Spa resort is a great place to go for a spa break or active ski holiday. The rooms offer all the comforts needed for relaxation and the spa offers more than we could have wished for. Val Gardena is my new favorite ski area with amazing huts and great variety of slopes and areas to go directly from the hotel.
The food at Adler Dolomiti is outstanding and the wine very well priced. Overall our couple of days at Adler Dolomiti felt like more than a week holiday. The service is great we only missed turn down service and from the Vital Residenz it is a long walk to the main building and restaurant but that can easily by avoided by asking for a room in the main building when booking.