The McLaren P1 GTR is one of the most extreme cars to hit the market in recent years. You can imagine our excitement when we had the opportunity to spend a night with two of them in the world's largest indoor theme park; IMG Worlds of Adventure in Dubai.
The P1s aren't ordinary GTRs either; they are both converted to be street legal. The mid-mounted hybrid V8 produces 1,000hp and includes some clever electronic wizardry. But for sure we won't need 1,000hp exploring IMG Worlds of Adventure with the two iconic cars.
Our adventure starts shortly after the theme park closed for the day. Two trucks delivered the P1s to a side entrance where they are unloaded and from where we can start our own exploration of IMG Worlds of Adventure – taking some photos in the process.
McLaren P1 GTR at IMG Worlds of Adventure Dubai
With me is Philipp Rupprecht – our talented photographer from Munich – and Abdulwahab of IMG Worlds of Adventure along with a select team who takes care of the cars. The theme park is divided in various sections all dedicated to a certain theme or brand including Marvel, Lost Valley and Cartoon Network. Each section has a range of rides and attractions visitors can enjoy. The entire park is located inside a giant dome that keeps the rides sheltered from the burning Dubai sun and 50C+ temperatures.
The first section we visit with the P1 GTRs is Marvel where we meet the Hulk, the Avengers, Spider Man and Thor. The McLaren P1 GTR is a purpose built race car and certainly not ideal for the precision positioning and tight space maneuvering required to shoot the cars inside a theme park. But after some initial struggles we are getting the hang of it.
Every time the V8s fire up I get goosebumps as I look at the insane cars with their huge fixed rear wing, massive diffuser and titanium alloy exhaust. Especially the dark car is incredibly hard to photograph though, reflections appear all over the body but I think Philipp did a tremendous job.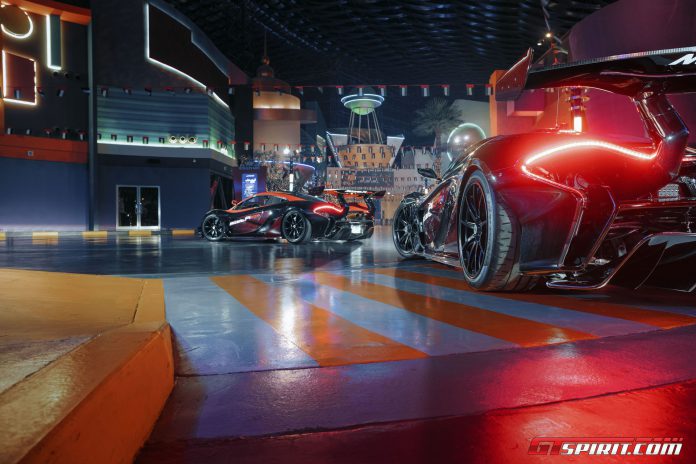 After Marvel we headed down to the Lost Valley where full size dinosaurs are waiting for us. Each section has a number of rides ranging from rollercoasters to interactive adventures. The different areas are connect with boulevards with shops and restaurants – the ideal place for a little P1 GTR vs P1 GTR drag race?
Long past midnight we are reaching the end of journey at the Park's favorite attraction: The Haunted Hotel! Visitors have to find their way out of this hotel full of monsters trying to scare you.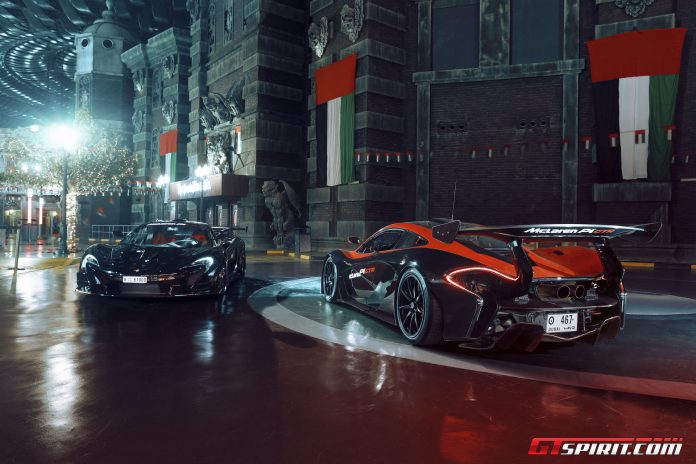 The night in IMG Worlds of Adventure officially wrapped up our Dubai trip and after four action packed days with hardly any sleep both Philipp and me were so tired but happy at the same time. Special thanks to Abdulwahab for making this possible!
The IMG Worlds of Adventure is open 7 days a week from 11am until 9pm (weekends until 10pm). IMG Worlds of Adventure is located on E311 (Sheikh Mohammed Bin Zayed Road – near Arabian Ranches, next to Global Village).