If you are in the market for a very extreme Audi RS3 that brings super hatch back performance to a whole new level, you should probably give German tuner B&B Automobiltechnik a call. They recently finished their four stage tuning program for the Audi RS3 and are able to upgrade its performance to an insane 550 hp and 750 Nm of torque.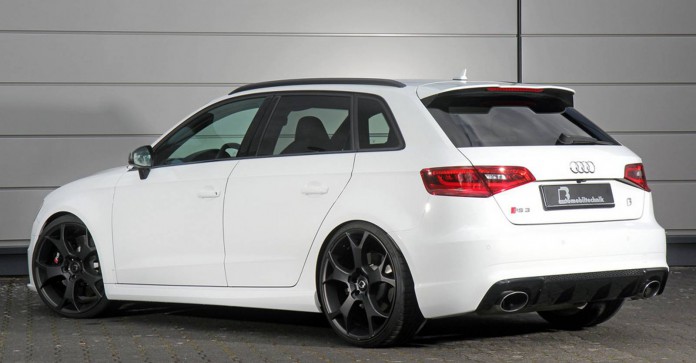 The award-winning 2.5-liter TFSI five-cylinder engine get's an ECU remap while other components of the sports hatch get replaced by in-house developed parts depending on the tuning stage. In its most brutal form, after applying tuning stage four, the RS3's output is raised from 367 hp and 465 Nm of torque standard to a massive 550 hp and 750 Nm of torque. This translates to on-road performance as follows, bringing its 0-100 km/h sprint time down by a second from 4.3 to 3.3 seconds. On the edge of supercar league performance, the RS3 8V is capable of doing 0-200 km/h in just 11.8 seconds, up from the manufacturer stated 16.1 seconds.
The RS3's boundaries in terms of top speed are pushed as well, making it possible for the RS3 to go beyond 300 km/h given that the limiter is removed and tuning stage four has been applied. Customers that are looking for a more civilized upgrade could opt for stage 1, which sees the RS3's performance rise to 430 hp and 620 Nm of torque as a result of the remap of the fuel and ignition curves. The cost of this first stage is €1,950.
For a €1,000 extra performance is brought up further to 450 hp and 655 Nm of torque in tuning stage 2. Here B&B optimize the air intake system combined with a fuel and ignition remap and slightly increased boost pressure of 0.25 bar over stock condition. The third stage ranks up an extra €5,000 to the bill and ensures a performance of 485 hp and 700 Nm. Besides a remap, the conventional exhaust system is replaced by a free flow sports exhaust system and an in-house high performance intercooler is installed.
Audi RS3 8V by B&B Automobiltechnik
The last stage sets customers back a total of €17,950 and fires the RS3 into supercar territory. This ultimate tuning stage sees the turbocharger replaced and comes with a race exhaust system boasting free flow metal catalysts. Additionally a high-pressure fuel pump is installed as well as an uprated oil cooler system. The Vmax limiter is removed with any tuning stage and B&B ensures the dual-clutch transmission is sufficiently tweaked to handle the increased output.
Customers that are looking for even more performance are presented with a comprehensive options list that shows a bespoke downpipe and sports catalyst for the exhaust system (€1,950), a thermostatically controlled oil cooler system (€1,295), a sports spring set to improve handling (€398), an adjustable coilover suspension module (€1,849) and a high-performance braking system (€3,995). Aesthetically B&B offer their own B10-style 20-inch alloy wheels for €3,498.