In it's eleventh year on the road, Chrysler's 300 sedan has become a familiar face to most Americans. Originally heralded as "the return of the American RWD sedan", it's bulldog stance and heavy reliance on chrome accents made it one of Chrysler's most popular models. Chrysler has done a good job of updating it throughout it's life to keep it fresh and technologically current but…it's not exactly new. In fact, we were angling for something a little more "GT" (say, a Challenger SRT Hellcat or a Viper) from Fiat-Chrysler to review but the base V6 300 Limited AWD was all they had available. We decided to revisit it, get an idea of how capable the current version is, and get a good baseline from which to base our opinions of higher-end, more "GTSpirit-ish" models.
The car provided was a beautiful Black Forest Green color which appears black in low light but radiates a fantastic dark green in direct sunlight. It still has the squared off, no-nonsense lines but now features a few sculpted lines in the sheetmetal. The heavy use of chrome on the earlier editions has been reduced to a few accents around the grill, the foglight, side windows, and across the rear bumper – just enough to add a little stateliness and panache to it. The wheel wells were filled with large 19″ wheels and low-profile tires. Large disc brakes could be seen lurking behind the wheel spokes, promising good stopping power. After eleven years, it may look a little dated against the current competition but it's still a handsome car.
The interior was spacious and comfortable. The leather seats were firm with light bolstering. Heated seats warmed my backside every cold morning. Most of the controls were contained in the large touch screen – the largest in it's class – in the center stack. Intuitive and clear, it made adjusting the radio, climate, and sat-nav simple and quick. The blue dash lights were easy on the eyes after dark, dimming when the automatic headlights came on. The car also came with the Walter P. Chrysler Anniversary Package, which included white leather seats, a helpful backup camera, and some chrome accents.
Many people who checked it out admitted that they while they were generally against the idea of white leather in a car, they thought it looked quite striking and really added some refinement to the interior. The seats were electrically adjustable to nearly any position you needed and the steering wheel was adjustable for rake and distance. The center armrest/storage console never interfered with arm movements and the rotary knob transmission shifter kept the console low and open. The view out the windshield and side windows was almost panoramic and I felt a pang of regret that I didn't have a trip out West scheduled because watching the open Western expanses unfold from the front seat would be amazing.
The engine was the base engine offered, a 3.6L multicam V6 with variable-valve timing. Making 295 hp and 260 ft-lbs of torque, it moved the heavy car with surprising immediacy and rarely felt taxed under everyday driving situations. When launched from a standing start, the car would scrabble off the line, the AWD helping to move all 4250 lbs quickly and efficiently. The engine was strong enough to instill confidence in passing situations, feel eager and lively, even at highway speeds.
I regularly found myself traveling much faster than the posted limits and my expectations. The eight-speed automatic transmission constantly and seamlessly shifted behind the scenes, providing the best economy and almost unnoticeable shifts. I've always liked Chrysler's larger V6 engines for how smooth and flexible they are. It's a good choice for a base model and would be sufficient for most American drivers. It's not a fire-breathing Hellcat motor, but it will rarely disappoint you in everyday normal driving conditions.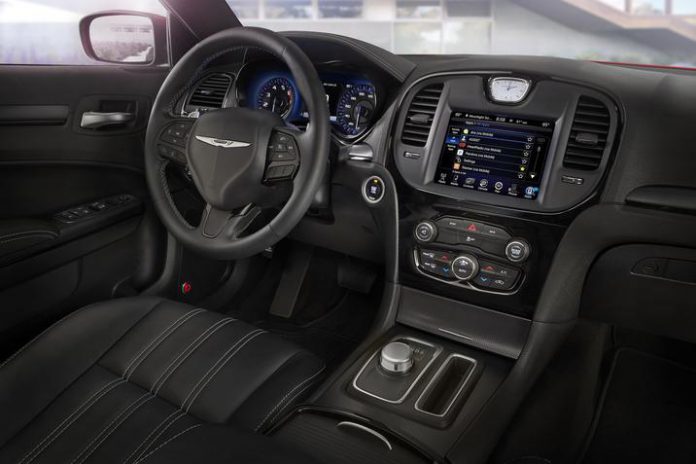 The AWD system worked invisibly behind the scenes to keep the car stable. Essentially a RWD car, the AWD activates the front differential when it senses slippery roads or a need for greater performance. Taking a corner sharply or accelerating hard is enough to kick the AWD on. You don't feel it come on but it gives you a little extra stability without you being aware of it. It gave the car terrific poise through one of the many heavy rainstorms we endured. It guided the car through standing water on the highway without any noticeable hydroplaning or slippage and inspired confidence in bad conditions.
The ride in normal everyday driving conditions is quiet and solid. The suspension is firm and confidence-inspiring unless you push it. If you push it, you'll quickly find that it's really not a car that likes being driven enthusiastically. When driven on twisty, hilly backroads it quickly becomes evident that this suspension has no sport tuning at all. It begins to float more and feel less tied to the road. Your confidence begins to evaporate. Slow down and and drive more sedately and it regains its composure.
Every trim level above this one has a sport suspension package available and it would have been interesting to test them back to back to see if it restores the otherwise competent demeanor on twisty roads. The brakes are powerful and good for slowing the heavy car but are a bit grabby. For the first inch or so of travel, the pedal does little to slow the car, then WHAM! the brakes grab hard and fast. If your motions are slow and deliberate they're okay and easy to modulate, but sudden stabs at the pedal can cause you to hang up in the seatbelts a little. Still, they're strong brakes that do a good job at stopping two tons of steel.
If GTSpirit were to order a 300 as a company car, we'd opt for the one-step higher 300S. Why the 300S instead of the higher trim levels? Because while all the upper trim levels have an available Hemi V8 with 8-speed automatic transmission and paddle-shifters, only the 300S comes with a sport-tuned suspension and larger sport brakes.
The 300S also has an available performance-tuned suspension, which would probably give this car the composure it needs to run back roads with confidence or maybe – just maybe – spend a day at the track. We'd also opt for the Premium Group which includes the touch screen controls and the panoramic sunroof, and the SafetyTec Plus group which adds adaptive cruise-control and brake assist, as well as blind-spot monitoring. Kitted as such, it should have no trouble hanging with the offerings from Cadillac and might even chase down a C-class Merc.
No, the 300 Limited AWD isn't a classic GT sedan. If you're an enthusiast, it's not necessarily even a fun car to drive in this trim level, but it is a pleasant car to drive. It's a good, quality, high-value sedan fit for 90% of the American public. It would make a comfortable commuter with it's luxury features. It would also make a good long-distance touring car.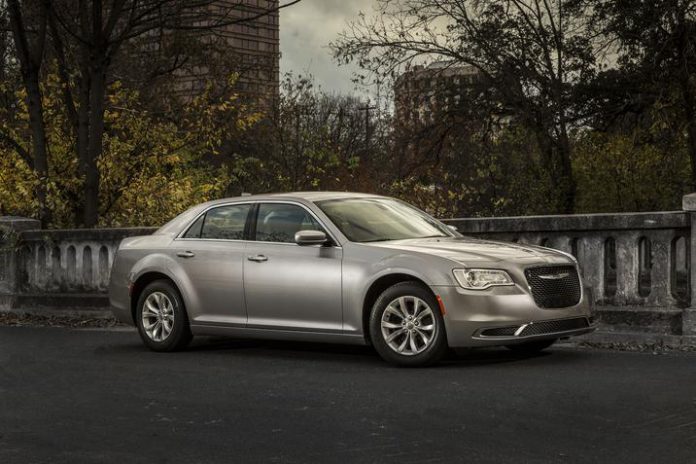 I've no doubt it would make a cross-continental trip a relative breeze, as comfortable and quiet and sure-footed as it is. After eleven years, Chrysler has done an admirable job of keeping the 300 relevant. It may not be what we consider a "GTSpirit" car in this trim level, but Chrysler has a lot of enthusiasts in their engineering department and many more interesting cars in their lineup. We hope to review a few more of them in the coming months and let you know about them.