Ola Källenius, current member of the board of Daimler AG, is on track to become the next CEO of Daimler when Dr Zetsche signs off before the end of this decade. During our recent visit to the New York Auto Show we caught up with him to discuss the vision for Mercedes-Benz in 2020.
But before we start with the future a few words on the present. Just like Detroit Motor Show this year, Mercedes-Benz was the real showstopper in New York with no less than five world premieres including a range of new AMG models. Asked about the importance of the New York show Ola Källenius, currently responsible for Mercedes-Benz Cars Marketing & Sales said: "New York has always been important for us. This show attracts over one million people every year which make it very attractive."
Mercedes-Benz at New York Auto Show 2016
Walking around the show the VW diesel scandal is still a hot topic, how does that impact Mercedes-Benz? "The diesel scandal triggered by VW hasn't affected sales of our diesel models (yet). In the US the share of diesel cars is very limited with only around 3% so it plays a very insignificant role here. In Europe on the other hand there are certain markets where over 70% of the cars that we sell come with a diesel engine – but also there we don't see a decline in sales."
In this aspect it is interesting to note that Mercedes-Benz recently invested 2.5 Billion Euro in the development of a new fuel efficient four cylinder diesel engine for the Mercedes-Benz E-Class. "Diesel engines still offer a large CO2 saving potential that will help us reach our 2020 emission goals for the entire fleet."
For the time being plug-in hybrids and full electric models still lack the sales volumes to make a large enough impact on bringing fleet emissions down significantly. With emission goals and downsizing in mind you might wonder what happens with larger engines? But luckily Källenius can confirm the six cylinder will stay for the foreseeable future and we received a similar answer about the V8 engines from AMG CEO Tobias Moers in an earlier interview.
Here at the New York Auto Show Mercedes-Benz launched the new GLC Coupe. A new compact SUV-Coupe that competes with the BMW X4 and to a certain extent with the Porsche Macan. We wonder if all these new variants are sustainable or should we expect certain models to disappear again in the near future? According to Källenius this is not the case. On the contrary: "Currently we have 30 models and variants, in 2020 we should have 40." We can only speculate what those ten new models and variants may look like but that the desire to continuously expand the portfolio is clear.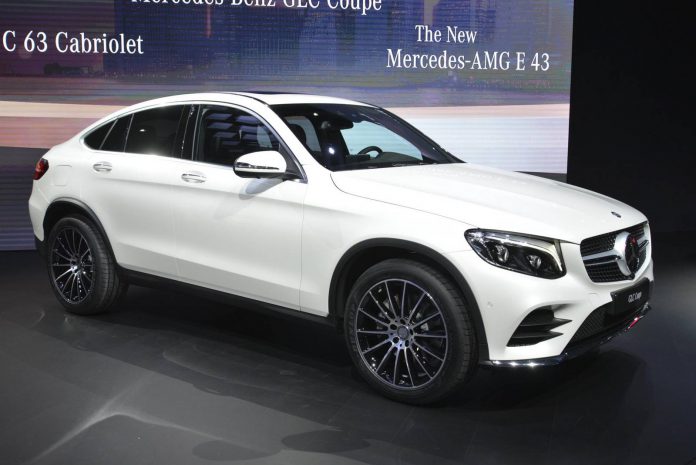 Also in terms of autonomous driving, connectivity and e-mobility, Mercedes-Benz continues to invest towards 2020. Connectivity is becoming more and more important and thanks to new processors and stronger data networks more and more becomes possible.
In regard to alternative drive-trains we can expect three things from Mercedes-Benz before 2020. First of all 10 new plug-in hybrids will be released in the next three years and Mercedes-Benz has set a goal that by 2020 10% of all Mercedes-Benz cars sold should be plug-in hybrids, according to Källenius.
Get ready for a new hydrogen car from Mercedes-Benz by next year, and a brand new full electric model by 2019. This larger full electric model complements the current e-range with the Smart ForTwo and ForFour and the electric Mercedes-Benz B-Class. The new model should have a range of 400 to 500 kilometers. Wrapping up our interview, Ola Källenius says: "In regard to electric and plug-in hybrids we don't produce huge numbers yet, but looking on the bright side we are selling more every month."