The Audi Forum Neckarsulm dealership in Germany regularly displays some of the most stunning Audis to its visitors. Last year, we came across the gold-platted R8 V10 Plus and the one-off e-Tron Quattro Concept. Now, a Audi RS6 Performance, finished in Polar Blue metallic paint by Audi Exclusive, is currently on display.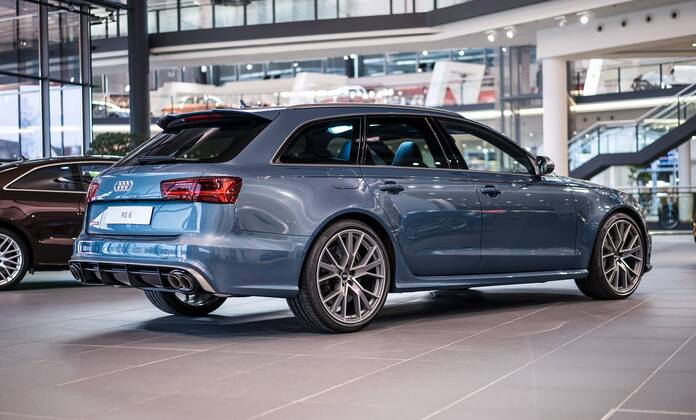 The 2016 Audi RS6 Performance is powered by a twin-turbocharged 4.0-litre V8 engine producing 605 hp (up from the previous 560 hp) and 553 lb-ft of torque (up from 516 lb-ft) Thanks to the power and torque gains, the RS6 Performance accelerates from 0-100 km/h in a mere 3.7 seconds compared to 3.9 seconds of the standard model.
Elsewhere, jut 12.1 seconds is needed to reach 200 km/h, 1.4 seconds less than standard and when the optional dynamic package is fitted, top speed rises to 305 km/h. Power is directed to all the four wheels of the car via an eight-speed automatic gearbox. Nonetheless, despite the potency of the twin-turbo V8, it consumes just 9.5-9.6 litres of fuel per 100 km.
Polar Blue Metallic Audi RS6 Performance