Red Bull Racing has revealed its 2016 Formula 1 challenger. The new Red Bull RB12 has just made its track debut at the Circuit de Barcelona-Catalunya in Spain where pre-season testing is currently underway.
Red Bull revealed their new livery last week in London on an older car ahead of the official RB12 debut. They have retained a Renault power unit albeit now badged as TAG-Heuer, the team has improved on a few elements based upon lessons learned from the 2015 season.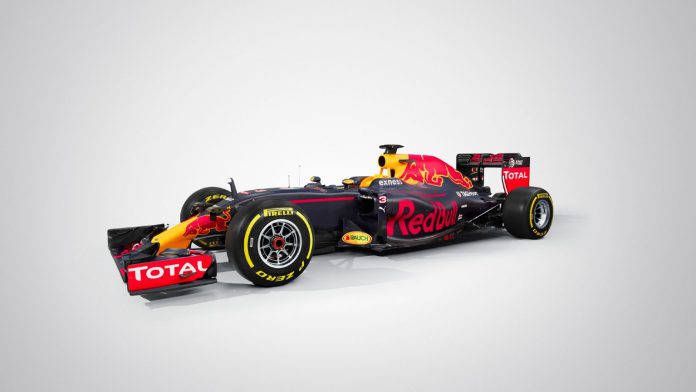 The Milton Keynes-based team has retained the same driver lineup from 2015, Daniel Ricciardo and Daniil Kvyat with Ricciardo hitting the track first in the new RB12 this morning. Chief technical officer Adrian Newey admits that with the regulations still very stable, there was very little room for improvement though they managed to rework the suspension, chassis dynamics and the aerodynamics.
That said, the new RB12 uses a composite monocoque structure designed by Red Bull Racing, the TAG-Heuer power unit is mated to an 8-speed gearbox. OZ Wheels are wrapped in Pirelli rubber while the braking components are provided by Brembo. Pushrod activated springs are used on the front suspension while pullrod springs are used on the rear suspension.
Red Bull Racing has a record of 4 Formula 1 constructors' championships and 4 drivers' championships won consecutively from 2010 to 2013 under the reign of Sebastian Vettel.They became the first Austrian team to win an F1 championship in 2010.
See More: 2016 Haas VF-16 F1 car and 2016 Mercedes-AMG F1 W07 Hybrid
Quotes:
Team Principal, Christian Horner: "Obviously the late engine decision last year was a challenge but we found a solution in time and the whole team has worked incredibly hard to recover over the winter. Therefore, we're looking to build on the significant progress we made in the second half of 2015 and to carry that momentum into the early races of this season."
Chief Technical Officer, Adrian Newey: "I'm often asked what area of the car I'm most pleased with, but with the stable regulations we have at the moment it's difficult to find any major new areas to exploit.
"Therefore, what we've really tried to concentrate on with this car is getting a cohesive package for all the parts – the suspension, the chassis dynamics, aerodynamics – that they all work together in harmony. I think we've managed to build on the lessons of last year and all the indications from our simulations suggest that this year's chassis should be strong."