Earlier this week Christie's International Real Estate announced that it had sold the Netherlands' most expensive penthouse, located in the heart of Amsterdam. It's Amsterdam-based restaurant tycoon Won Yip that put down the final unrefusable offer.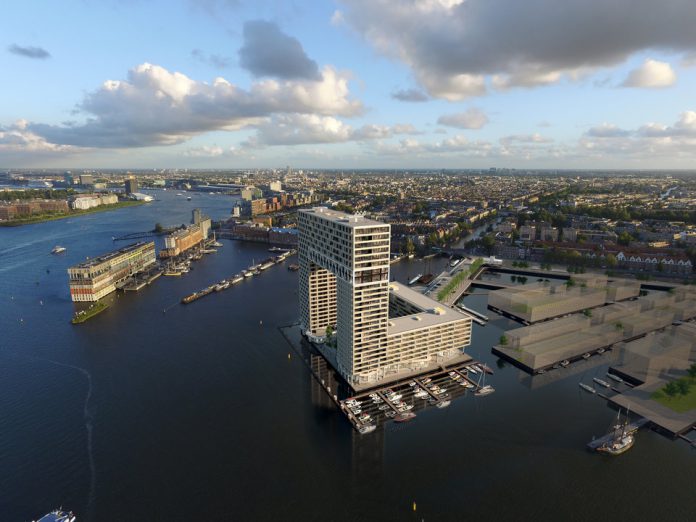 The 1440 square metres penthouse is yet to be built, and makes up the entire top floor of the currently under construction 90-metre tall 'Pontsteiger' building. Besides being the most expensive penthouse ever sold in the Netherlands, it's also the largest penthouse to be ever built in the country.
At 11,000 Euro per m2 it is one of the most expensive properties per m2 in the city. The 1440 m2 penthouse was dreamed up by Christie's real estate and combines four apartments to one mega penthouse. Won Yip saw the project for the first time at the recent Masters of Luxury show at the RAI convention center. Christie's stated there were many foreign buyers in the market for the gigantic penthouse, driving up the final selling price. Several celebrities, allegedly including American Hollywood star Brad Pitt, were outbid by the Dutch restaurant tycoon Won Yip.
Piling works are currently ongoing at the site of the 90-metre tall Pontsteiger building. Designed by Dutch architects Arons en Gelauff, it's situated on a small plot that was separately created in the small 'IJ' lake. The IJ lake separates the capital's city centre with the Northern part of the city. The building's design features an interesting shape, already being given the nickname 'the new gate of Amsterdam'.
The Pontsteiger building features an total of 300 apartments for rent and 100 apartments for sale. The building will have its own private marina, with 45 spaces for yachts. Won Yip didn't just buy the penthouse, he also purchased 8 additional parking spots and 2 spaces at the marina.
Source: landcentury.com.