Peugeot continues to lead the Dakar Rally 2016 in a flawless manner with Carlos Sainz taking victory in Stage 7 (Uyuni to Salta) yesterday. Sebastien Loeb managed to take the overall lead back from Stephane Peterhansel after finishing second. The French team incurred minor mechanical problems which should be fixed during the rest day today.
Sainz was fastest among the Peugeot drivers with Loeb closely matching his speed. The Spaniard is now third in the overall standings behind Loeb and Peterhansel. Mini driver Nasser Al-Attiyah is still in fourth place behind the Peugeots.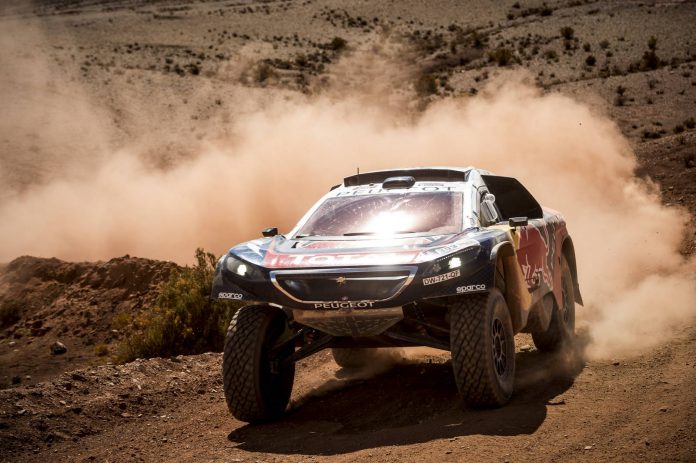 The distance in the bikes category was shortened for stage 7, Antoine Méo – a five time enduro world champion – won the stage in his maiden Dakar Rally. Kevin Benavides finished in second place with Yamaha's Hélder Rodrigues claiming third place. Paulo Gonçalves still leads the overall standings away from Toby Price and Štefan Svitko both riding KTMs.
The quads category was also shortened with local rider Lucas Bonetto taking the stage win. The Patronelli brothers are still the overall leaders with Alejandro on top, Marcos in second while Sergey Karyakin sits in third place.
Russian Eduard Nikolaev was the fastest man in the truck's category taking home his Kamaz truck in first place. Pieter Versluis managed to take back the overall lead from fellow MAN driver Hans Stacey who had a rather slow day. Fellow Dutchman and Iveco driver Gerard de Rooy is second in the overall standings with Russian and Kamaz driver Ayrat Mardeev in third.
Monday will kick off the second half of the Dakar Rally 2016 which will follow a series of longer off-road routes and more intense terrain. Stage 8 will run from Salta to Belen over a distance of 393 km.