Escapade was the last vessel built by New Zealand based yacht builder, Fitzroy Yachts. The company ceased its operations in April 2014 owing to effects of the 2008 Global Financial Crisis. Nonetheless, their last project was a pure reflection of 17 years of experience in building sailing yachts.
Fitzroy decided to give it their all with the Escapade project, bringing out a team of 100 craftsmen to work on what they would be remembered for in the yachting industry. The yacht was commissioned by first-time European owners who wanted to incorporate luxury, comfort and prestige.
Designed by Dubois Naval Architects, Escapade has a length of 37.5 meters and a 50-meter high rig from the waterline. She features a fixed keel with a carbon mast and airfoil carbon rigging provided by Hall Spars. The 3-dimensional lightweight sails consist of Main, Genoa, Jib and Staysail all provided by North Sails.
One of the main features on Escapade is the elevated main saloon which is properly raised to provide panoramic views of the sea during cruises. The cockpit is fitted with fixed bimini shades and two wave shaped helm stations. The private sunbathing area features a set of large sun pads as well as a jacuzzi.
Escapade Sailing Yacht by Fitzroy Yachts
The interior design was catered for by Design Unlimited. There's one owner's cabin, 3 guest cabins, the captain's cabin and two crew cabins. The aft deck is made of the finest materials benefiting from the large space and panoramic views. The designers used red and bronze color scheme throughout the aft deck and its cozy lounge.
The main saloon is colorized in cream and lavender schemes which become vibrant when struck by natural light from the large panoramic windows. There is a large dining area with separate bar and breakfast sections. The guest cabins are finished in a modernistic design and contemporary artwork throughout the walls and corridor.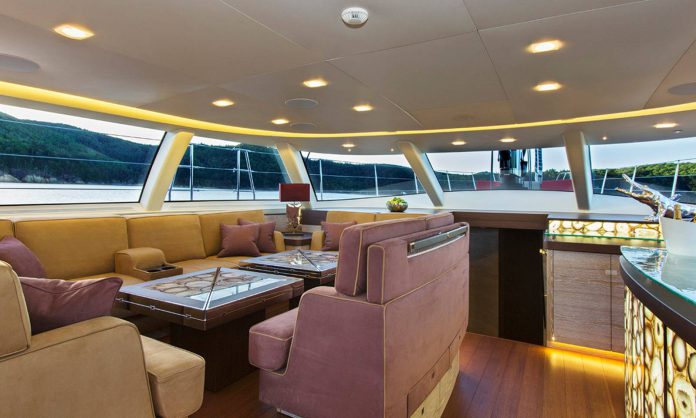 The master suite on the other hand is flourished with tones of natural colors as well as maximum natural light thanks to the huge panoramic windows. It has a separate lounge and office section, a walk-in wardrobe and finishing touches made of stainless steel throughout the cabin. Fitzroy says that Escapade was built in an uncompromised manner enough to make her a worthy competitor on the Regatta Circuit.