Just recently W Hotels Worldwide, part of the Starwood Hotels & Resorts Group, opened their first luxury hotel in the Netherlands. The perfect venue for opening a brand new luxury property in the Netherlands, is of course the capital Amsterdam, that enjoys some annual 20 million tourist visits and is a world renowned city for business as well.
Located in the heart of Amsterdam, just footsteps away from the famous Dam square, the W hotel occupies two iconic buildings that have been renovated extensively before the W hotel moved in. The buildings the hotel extents over are the historical telephone exchange building and a bank building that was previously home to the 'KAS' Bank. The W Amsterdam was designed by the WINHOV office in partnership with Baranowitz Kronenberg Architects.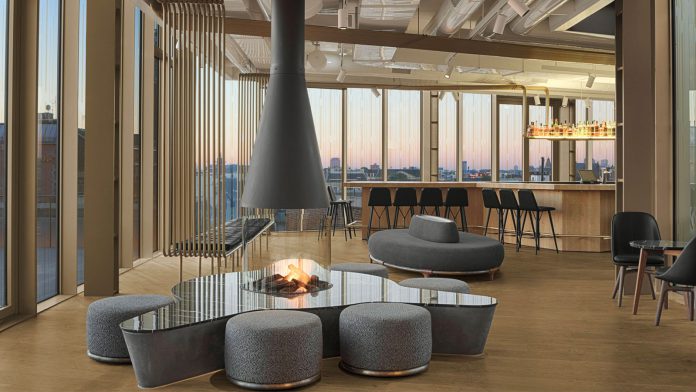 Currently only 172 guest rooms are available for booking, while the remaining 66 rooms will be ready to welcome guests early next year. The 172 guest rooms that are open since October 2015 are located in the 'Exchange' building, while the 66 yet to be opened rooms will be located in the 'Bank' building. The Bank building will also feature the W hotel suites focused on luxury travellers. Guests can opt for a regular suite, a WOW suite or an Extreme WOW suite – the W hotel equivalent of a presidential suite – of which the hotel will feature two.
The Extreme WOW suite will feature 183 square metres of space, an open plan bathroom with a hot tub, walk-in closet and stunning views of the Dutch Royal Palace which is adjacent to the Dam Square. It is also noteworthy that the W hotel Amsterdam will be among the first hotels in the city to feature 'SPG' keyless entry, enabling guests to use their smartphone as a roomkey.
The hotel lobby is located on the sixth floor of the Exchange building, called the W hotel lounge. The lounge offers access to four rooftop terraces and has floor-to-ceiling windows offering 360 degree views over the Amsterdam canals and UNESCO world heritage site. Looking out over the royal palace, W hotel Amsterdam's 'Wet Deck' is the city's first rooftop pool. It spans 22 metres and is heated during the winter.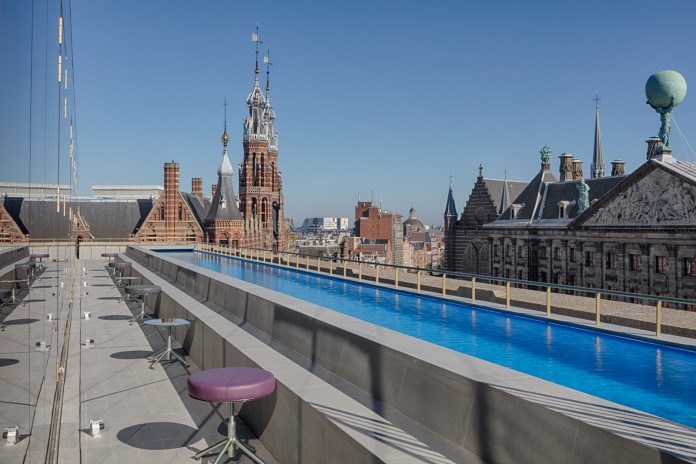 In terms of dining and drinking there is a rooftop restaurant called 'Mr. Porter', which offers a mix between a sophisticated steakhouse and a high energy lounge. Additionally there is the 'The Duchess', a culinary venue located in the Bank building. As opposed to the guest rooms in the Bank building, the restaurant opened back in June of this year.
Upon the opening of the remaining guest rooms in the Bank building in early 2016, a 700 square metre exhibition space called Xbank, state-of-the-art fitness centre and spa venue will be opened at the same time. What's incredible is the spa venue, which is to be located in the Bank's original vault!