Polish driver Kajetan Kajetanowicz claimed the 2015 FIA ERC championship title after winning the Acropolis Rally in Greece this weekend. The rally was ended prematurely after rains and thunderstorm forced the last three stages to be cancelled.
This was the first ERC title win for Kajetanowicz, he now joins two other of his countrymen who have won it before. They are Sobiesław Zasada who won in 1966, 1967 and 1971 and Krzysztof Hołowczyc who won in 1997. In addition to his win today, Kajetanowicz was awarded the ERC Gravel Master title.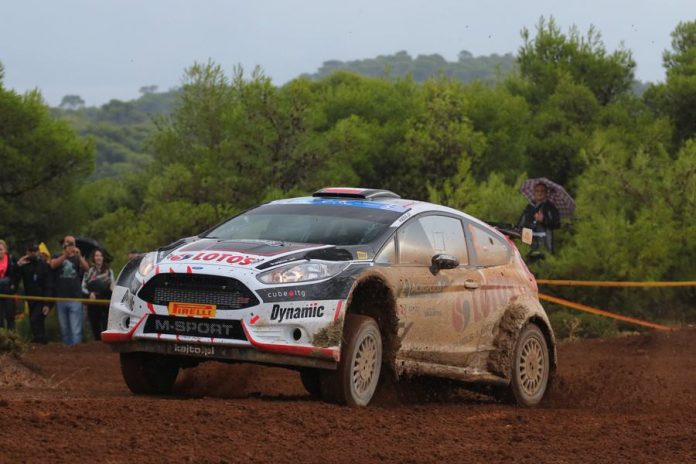 Speaking after his victory, Kajetanowicz said, "Yes we did it, it's been an amazing day. It was a dream but now it's come true. What can I say? Thanks to my team like always. To be honest it was a really hard year for us but we did it, we're European champions. It's amazing.
"It's a big, big, really big day, probably the best day in my life. I don't know – how can I say it? We did it with winning Acropolis Rally. It's also a big thing, one of the most difficult rallies in the world, not only in European championship.
"I want to say thank you to my parents, mum and dad. They believe in me every time, everywhere. I have no time for them but I want to change it because they are very important for me. They are always with me, and they are always in my heart."
Co-driven by Jarek Baran in the Lotos Rally Team Ford Fiesta R5, this was Kajetanowicz's third win of the season, even a second place finish today was still good enough to award him the 2015 championship title. Veteran Craig Breen was his closest rival but a last minute glitch left him struggling for second. Lambros Athanassoulas completed the podium in his Skoda Fabia R5 – this was his first gravel rally in four years.
Breen had started the day in third place behind Athanassoulas, suddenly the bonnet of his Peugeot 208 T16 flew open rendering his vision useless. On top of all that, the weather was foggy and the roads were muddy. When the rally was cancelled, the Irishman was lucky to end up on the podium in second place, he was also awarded the Colin McRae ERC Flat Out Trophy.
Elsewhere, Dávid Botka claimed the win in ERC2 category in his Mitsubishi Lancer Evolution IX navigated by Péter Mihalik. The two finished fifth overall and will be fighting for the ERC2 title in the next round.
The FIA ERC season finale will head over to the southwest region of Switzerland for the Rallye International du Valais on October 29.
ERC Acropolis Rally Top 10 Results
1. Kajetan Kajetanowicz (POL)/Jarek Baran (POL) Ford Fiesta R5….1h32m11.1s
2. Craig Breen (IRL)/Scott Martin (GBR) Peugeot 208 T16….+10.0s
3. Lambros Athanassoulas (GRE)/Nikolaos Zakcheos (GRE) ŠKODA Fabia R5….+15.3s
4. Jaromír Tarabus (CZE)/Daniel Trunkát (CZE) ŠKODA Fabia S2000….+3m12.5s
5. Dávid Botka (HUN)/Péter Mihalik (HUN) Mitsubishi Lancer Evolution IX….+3m54.5s
6. Raul Jeets (EST)/Andrus Toom (EST) Ford Fiesta R5….+4m30.9s
7. Dominykas Butvilas (LIT)/Kamil Heller (POL) Subaru Impreza WRX STI….+4m40.6s
8. Antonín Tlusťák (CZE)/Ladislav Kučera (CZE) ŠKODA Fabia S2000….+8m48.2s
9. Petros Panteli (CYP)/Constantinos Constantinou (CYP) Mitsubishi Lancer Evolution X….+11m44.0s
10. Jourdan Serderides (BEL)/Frederic Miclotte (BEL) Citroën DS3 R5….+11m45.8s