It's a sailing yacht like no other built to superyacht standards with the best of Turkish design trends in mind. Dubbed 'RoxStar', this sailing yacht was built by a shipyard called Bodrum Oğuz Marin from Turkey/Bodrum. They specialize in naval architecture within the line of yacht building. The shipyard was formed by two people in 2002 – one an economist and the other a craftsman with a strong background in boat building.
The main idea behind RoxStar was to build a sailing yacht with additional comfort of a motor yacht and the luxury of a superyacht. To do that, they sought the interior design skills of another Switzerland based firm called K-Architect. The interior is inspired by rock music hence the name of the yacht.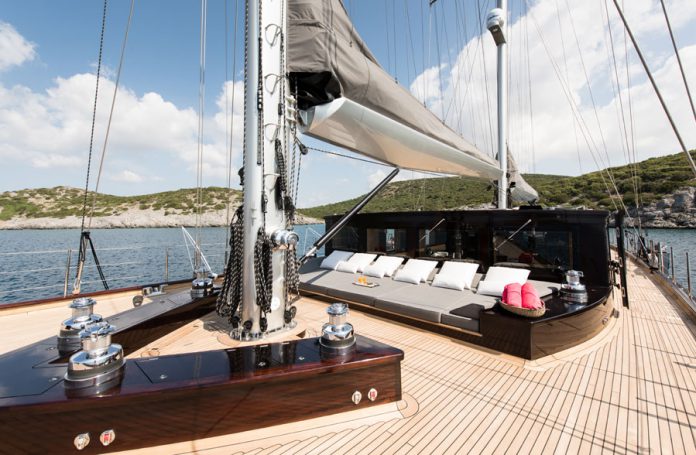 RoxStar has an overall length of 39.9 meters and sails measuring 1,320 m2. It has a total of five cabins – one master and four VIP guest cabins. There are 3 additional crew cabins that can comfortably host 6 crew members. The main salon is wide enough to provide the guests with ambient space for relaxing, the crew has its own spacious resting area located in the galley.
Speaking of the kitchen, this is one of the areas in the sailing yacht that the designers thoroughly thought of. There are 3 ovens, cold room, wine cupboard, dish heater, salamander and more. When the food is prepared, it's transported to the guests upstairs via a special elevator.
The master suite comes with a Turkish bath and steam room – all baths in the yacht are finished in a special marble with immaculate design styles engraved onto them. Key to the design of RoxStar was the rear cover located in the garage area. It's a sophisticated door that transforms the whole area into a beach club when it's opened. The garage can store up to two jet skis and a load of diving related gear.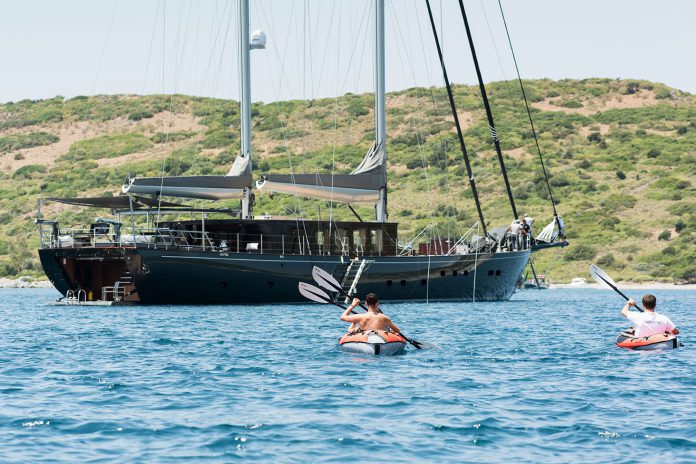 Other than the features we have already mentioned, RoxStar also comes with an automated salon door, elevated TV in the main salon and steering consoles made of carbon fiber.