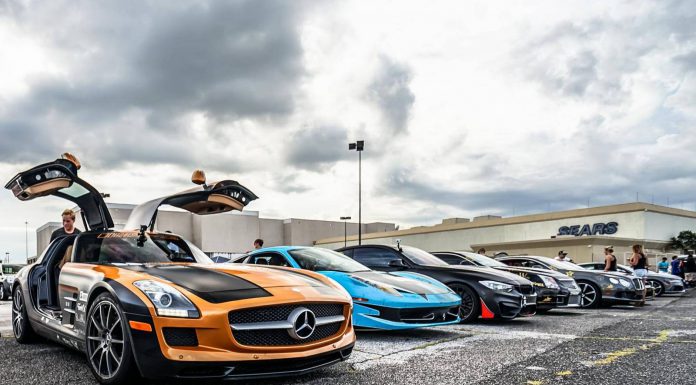 The 2015 edition of the goldRush Rally is almost over after 10 days of extreme fun with some of the hottest supercars in North America. This year's edition had over 90 participants including manufacturer entries by Bugatti and Pagani. The teams are now in Florida where they will hold another public show as well as interact with the fans. Meanwhile, here is a list with the top 15 hottest cars from the rally.
As you can imagine, it's nearly impossible to limit this list as they are all incredibly prestigious in their own ways. Nevertheless, we can still pick out a few that are really outstanding from the crowd.
1. BC's Bugatti Veyron Super Sport a.k.a Panda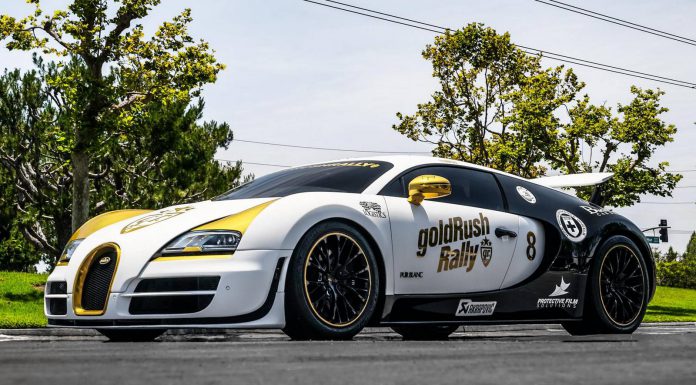 This one is not new to goldRush Rally and is probably the most famous Super Sport edition in the globe. It has a new GR7 wrap albeit in the same theme of gold, white and black as before. It was joined by two other Bugattis – the Hellbug Vitesse and Bleugatti Vitesse – bringing the total number of Veyrons in GR7 to three. Check out Panda's full shoot here.
2. Salomondrin's Pagani Huayra 730S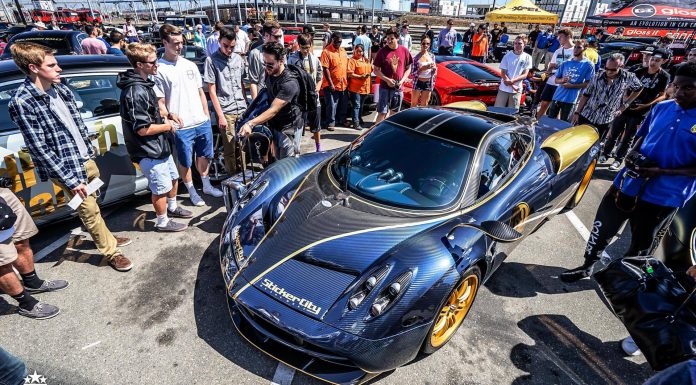 Salomon is already a member of the GTspirit Supercar Club having registered the Huayra 730S and a Porsche 918 Spyder as well. This Huayra is one of the very last to leave the factory and features a Zonda Tricolore inspired paint scheme. You can view its full photoshoot here.
3. Naked Carbon Pagani Huayra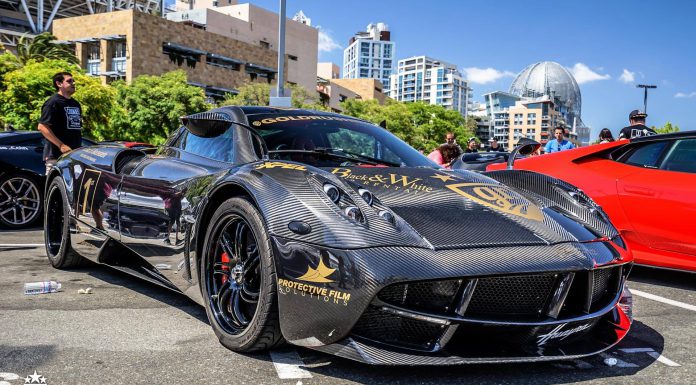 Another exceptional supercar from GR7 is this naked carbon Pagani Huayra in black. It was the second Huayra in GR7 again making goldRush Rally the only supercar rally in the world with such an incredible collection.
4. Rainbow Themed Lamborghini Huracan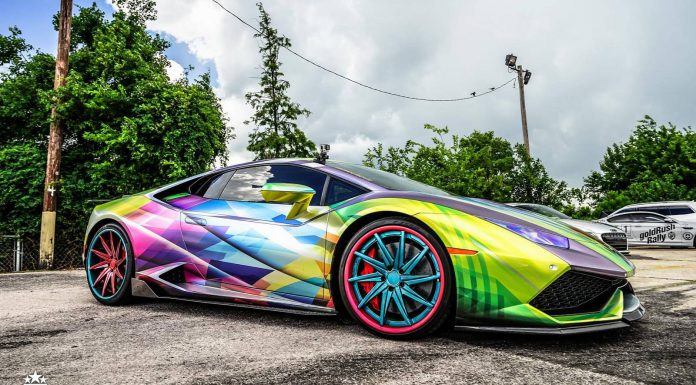 This Lamborghini Huracan is a major attention grabber leaving spectators stuck on their phones taking pictures in every stop the rally made. The chrome effect and rainbow colors played a major role in attracting crowds. The wheels are also finished in different colors just like the body art.
5. Team Salomone Lamborghini Aventador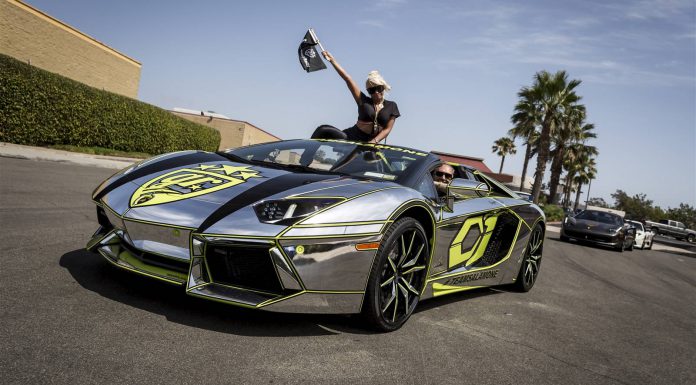 This one needs no introduction either. All one needed to do is listen out for loud music coming from an Aventador driving with doors up and filled with sexy girls. The car has had the chrome and tron wrap for a while now even before GR7 started. Judging by the attention they gathered, it was satisfying enough to have them on the list.
6. Team RDBLA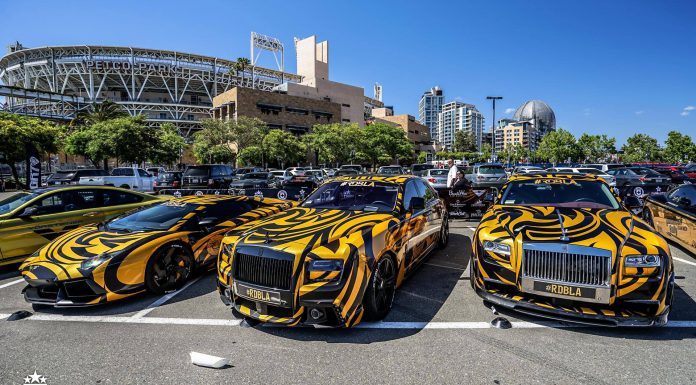 This is probably the coolest wrap design in GR7. The team entered three cars comprising of a Lamborghini Aventador and two Rolls-Royces. Their wrap featured a Tiger skin inspired theme, and they really did turn heads wherever they stopped! Team RDBLA is an aftermarket tuning company specializing in luxury and supercars.
7. GMG Racing Porsche 911 GT3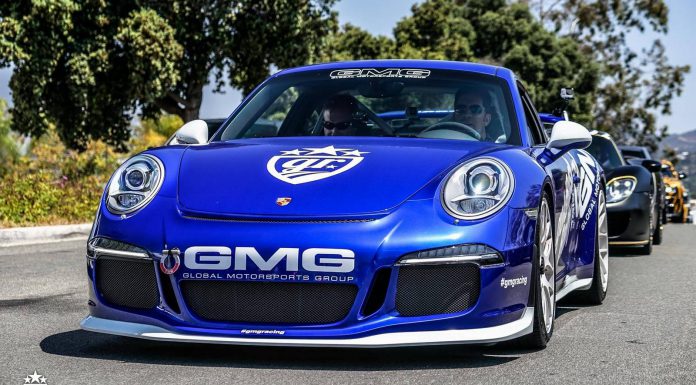 Not only is this the coolest GT3 at GR7 but it's also one of the best looking in North America. GMG Racing are well known for not only their superiority in fielding race winning supercars but also building some of the best cars. We hope to do a proper feature on this particular car in the coming days!
8. Bugatti EB110 Super Sport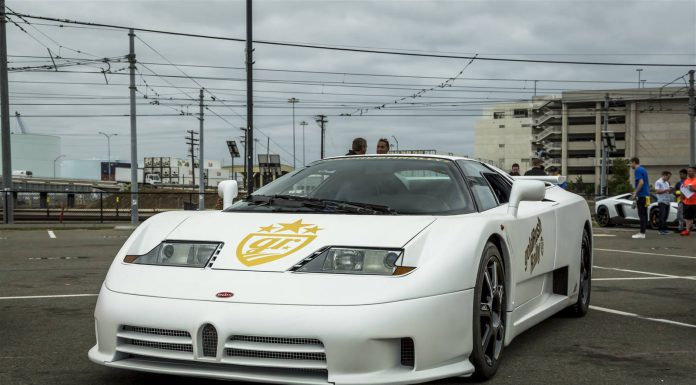 You don't see a Bugatti EB110 everyday let alone the ultra rare Super Sport variant. goldRush Rally organizers managed to obtain one for GR7 finished in white. Bugatti only made 139 examples of the EB110 and there is only a handful of Super Sport editions. Powered by a 600 hp W12 quad-turbocharged engine, the EB100 SS was and is still one of the fastest supercars boasting a 350 km/h top speed.
9. Saleen S7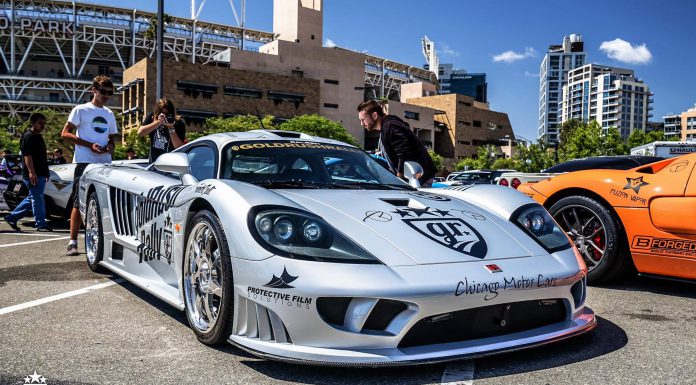 Another rare car from GR7 is this Saleen S7. The car in twin-turbo specification is considered one of the fastest supercars ever made. This particular unit was entered by Chicago Motor Cars but we don't have word on whether it's up for sale or not.
10. Brabus Mercedes-Benz SLS AMG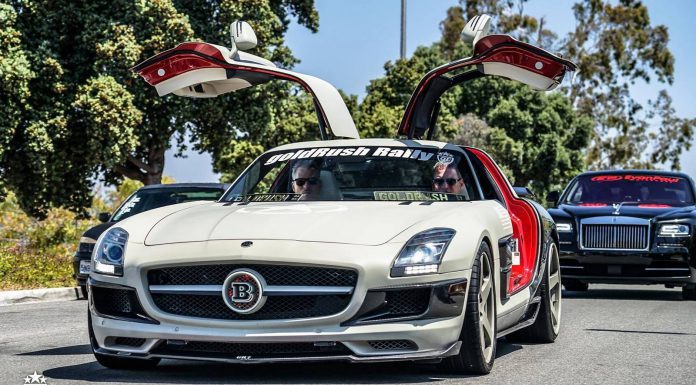 There are not a great deal of these in North America, and with the full Brabus package, this edition is capable of producing over 700 hp. The sound will also tell you that it's not an ordinary SLS AMG as it's much more louder. In addition, it has a more aggressive look than the stock model thanks to the carbon add-on parts and Brabus badging.
11. Camo Ferrari 458 Italia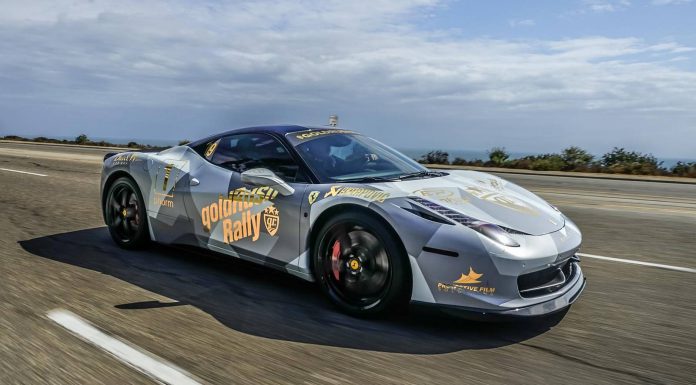 This is easily the best looking Ferrari 458 Italia at GR7 featuring a light camo wrap with gold stickers in contrast. As the last of the V8 naturally aspirated Ferrrari's, the 458 will not only continue to turn heads in the future but could also become a collector's car. Needless to say, a supercar rally isn't complete without a Ferrari 458 Italia/Spider!
12. Team Champagne Showers Rolls-Royce Ghost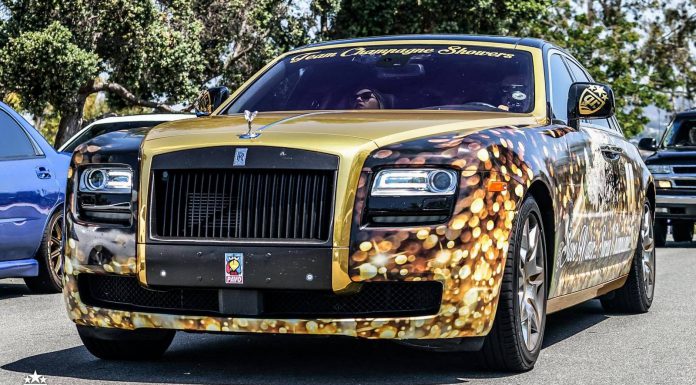 Just like the name suggests, the wrap on this Ghost was inspired by champagne showers. GR7 is full of parties as well thus making it the perfect place for the team to bring their party toy. The wrap was well matched with the GR7 gold stickers.
13. Camo Chrome Lamborghini Aventador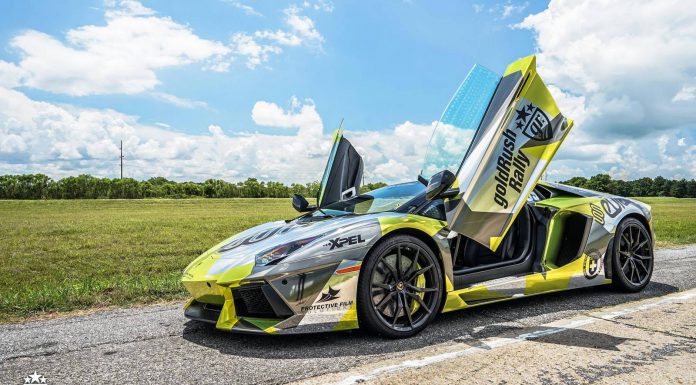 Another great looking Lamborghini Aventador from GR7 featuring a camo wrap with chrome effect on it makes it way onto our list. The camo chrome has patches of green adding to the glittering effect as well as making it really attractive.
14. Taylor Lynn Foundation McLaren 12C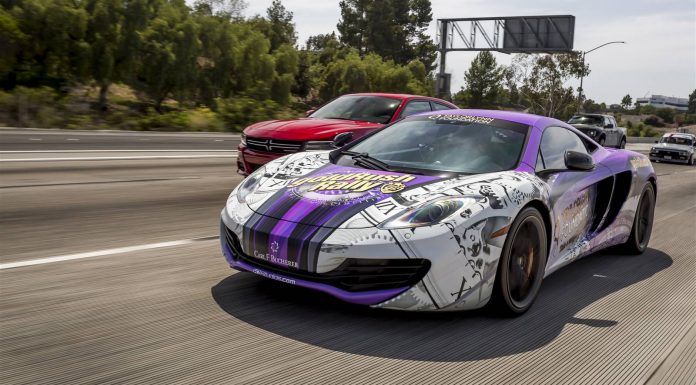 Wrapped by Protective Film Solutions, the TLF McLaren 12C is not new the rally either. They had two entries last year comprising of twin McLaren 12Cs. For this year they had a different look on the car comprising of purple, black and white artwork.
15. Hellcat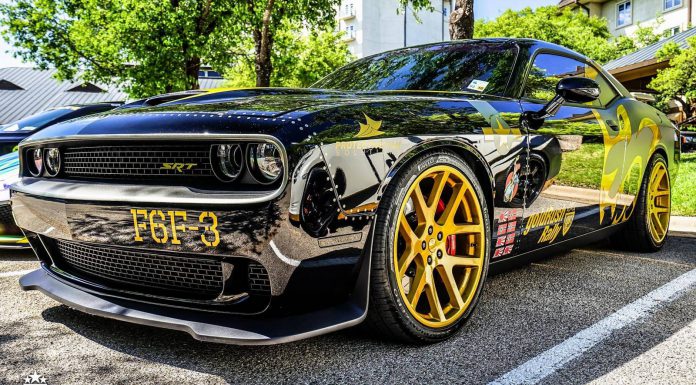 Burnouts and heavy breathing that's what this Hellcat was all about. The 707 hp Challenger which has turned into an internet sensation gathering mixed reviews put out quite a show at various GR7 locations.
---
The list is just a taste of what the entire GR7 is all about and as such we cannot fully explore the experience with just a list of 15 cars. Below are a few other honorable mentions which put out an equally great impression at the rally. Starting with the Camera crew car – Little Ninja – to the Bluegatti, Hellbug, Audi RS7, BMW M4, M5, M6, Ferrari F12, California T, Nissan GT-Rs, Lotus Evora, Mercedes-Benz G63 AMG and the biggest truck in the rally!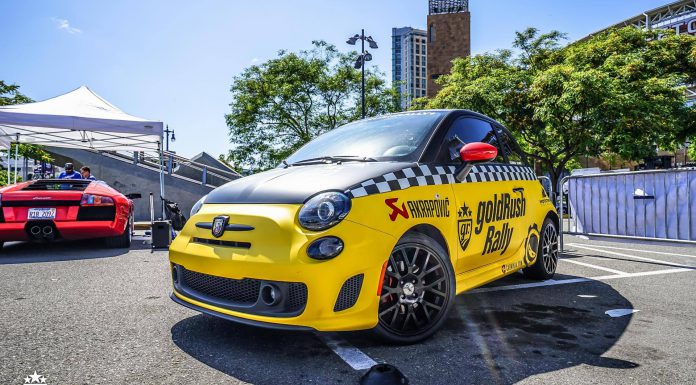 Ted 7 just uploaded this photo of similarly wrapped Lamborghini Aventador and Ferrari 458 Italia. It surely deserves to be on here too!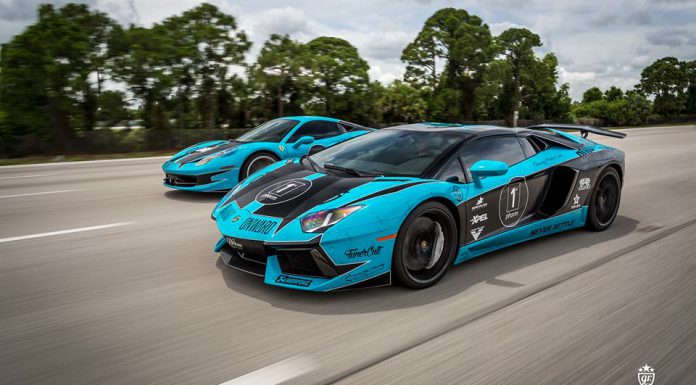 [Photos by Exotic Luxury and IamTed 7]