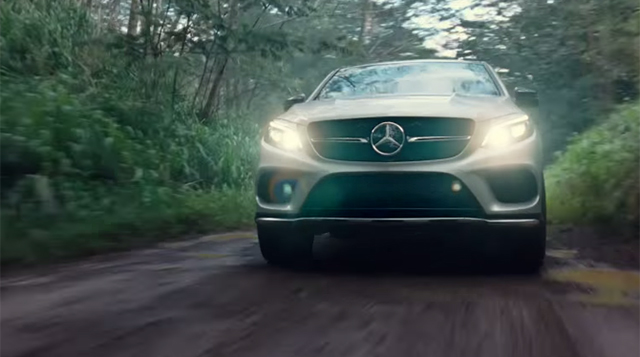 Prior to Jurassic World hitting theatres next month, a new trailer previewing both the film and the Mercedes-Benz GLE Coupe has been released by the German marque. The trailer also shows off a selection of other Mercedes-Benz offroaders including the truly insane G63 AMG 6×6.
The GLE Coupe in question is the GLE450 AMG and during the film, it will be driven by Jurassic World operations manager Claire. Other models from the automaker to feature in Jurassic World will be a Unimog and a Sprinter van.
[youtube]https://www.youtube.com/watch?v=PiY2u1EFtZY[/youtube]
Set to rival the BMW X6, the Mercedes-Benz GLE Coupe's design is heavily inspired by the Concept Coupe unveiled earlier in the year. With this in mind, the car features a flowing roofline which stretches back to a steeply raked rear window and a relatively high tailgate. As for the initial 2015 Mercedes-Benz GLE450 AMG Coupe which is the first model from the new AMG Sport line, it is adorned with a new AMG bodykit complete with 21-inch wheels. Other models in the GLE Coupe lineup will be available with 20-inch and 22-inch wheels.
Beyond the styling, the 2015 Mercedes-Benz GLE450 AMG Coupe is powered by a twin-turbocharged 3.0-litre V6 engine delivering a total of 367 hp and 383 lb-ft of torque. Other variants previewed thus far are the Mercedes-Benz GLE350d 4Matic with 258 hp and 457 lb-ft and the GLE400 4Matic with the same twin-turbo 3.0-litre V6 as the GLE450 AMG Coupe but instead pumping out 333 hp and 354 lb-ft of torque.