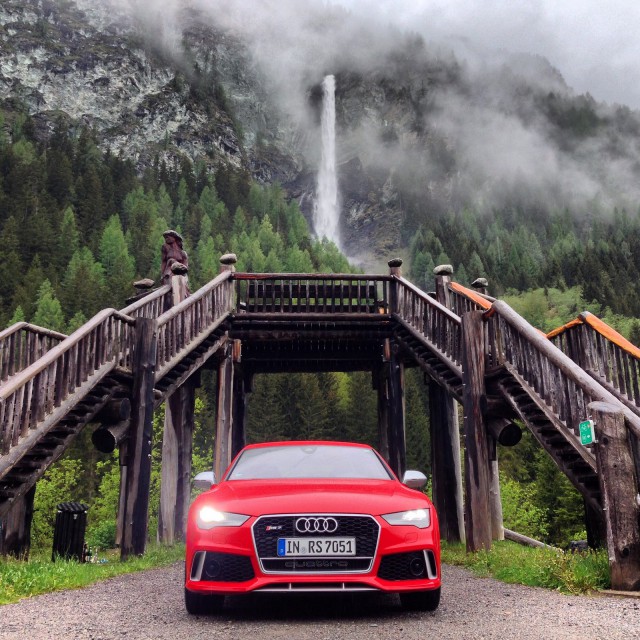 The Volkswagen Golf GTI gathering at the beautiful lake Wörthersee in southern Austria is usually held every year at Ascension Day and the following weekend. This year it was running in its 34th year, as the first meeting was in 1982 and the gathering has been growing a lot every year after that. In recent years many enthusiasts have come to the lake two to three weeks in advance to celebrate and show off their cars. Since 2006, Volkswagen has decided to give the massively growing amount of fans something back and support the gathering with entertainment stages and exhibition areas to present new models. GTspirit attended the meeting as well and we happily got a view of the brand new Golf GTI Clubsport and the Golf GTE Sport concept.
But first things first, at Munich airport we chose our ride over the alps towards Wörthersee and because we already knew how good of a car for trips like this the latest Audi RS6 Avant is with plenty of luggage space, enough comfort while still being a very dynamic and powerful car, we opted for it. It came in a Nardo Grey color which suits it perfectly in our opinion.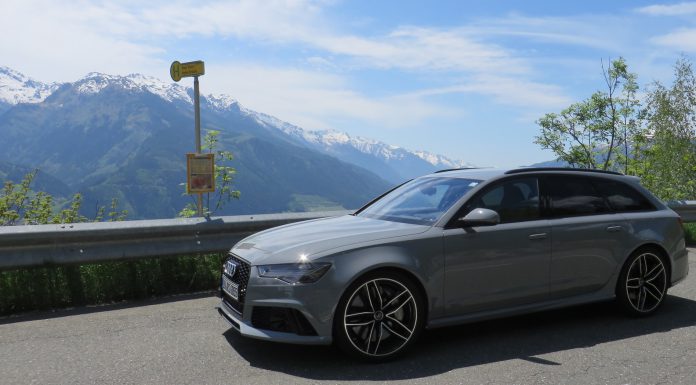 As soon as we took off, we switched off the GPS, which was obviously taking us on the fastest route to the town of Velden. We had however something else in mind. Knowing this area of the alps very well we figured it would be more fun to leave the (speed-restricted) Autobahn in Austria and go over some nice mountain passes instead. We chose to go via Felbertauernstrasse, which takes you up to 1650 meters above sea level on its peak and provides some commanding views of the snow covered mountains surrounding the twisty roads. We were again very much impressed by how agile and quick the Audi RS6 Avant maneuvers around the corners and how amazing the twin-turbo V8 sounds when you accelerate.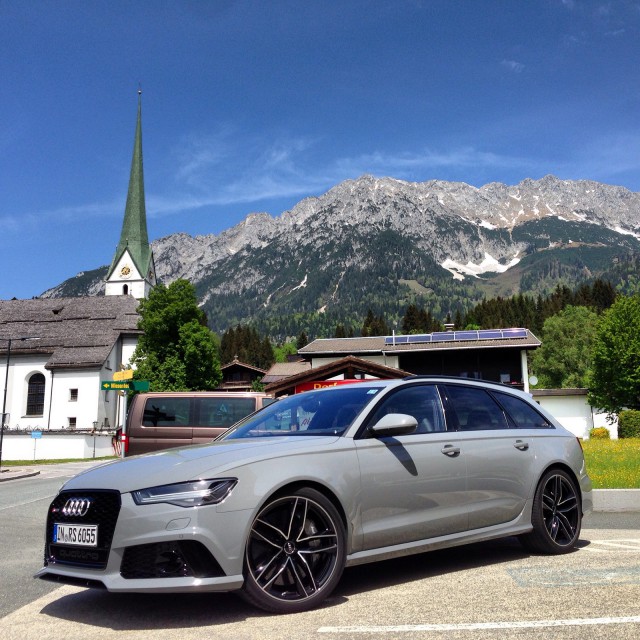 After about four hours of driving fun, we arrived at the Falkensteiner Schlosshotel in Velden and dropped the car off to the valet, so we could enjoy the hotel's amenities before heading for dinner, which was set up at the shore of the lake in the restaurant Seespitz, which belongs to the hotel. The hotel has an amazing spa area spanning an enormous size of 3600 m² and featuring a Finnish sauna located in a detached building with panoramic views of the lake, herbs sauna, infrared cabins, steam room with body wraps daily at 5pm, indoor and outdoor pool as well as large relaxation rooms where fresh water with lemon is provided. It is worth stressing that the entire spa area is very beautifully decorated and you can easily release all the stress after an exhausting day of excessive driving on mountain roads.

After a delicious buffet dinner, we decided to call it a day rather early, because it had been a long day for us and the day ahead would not be boring either with the official VW press release scheduled for 1 pm in the town of Reifnitz, which always has been the centre of the gathering where all the fans and enthusiasts meet on Ascension Day. The next morning after breakfast we were luckily shuttled by boat from Velden to Reifnitz because most of the roads around the lake had already been jammed by too many cars, so we arrived on time and in style.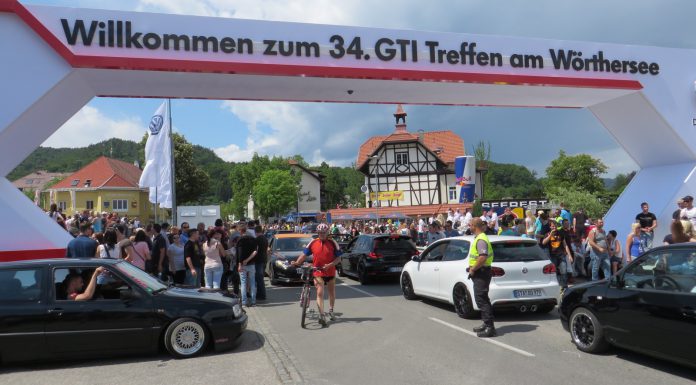 Walking around Reifnitz we saw dozens of highly customized and tuned cars. Frequently, people have dedicated an unbelievable amount of time, effort and money in their cars and they really mean a lot to them. I would say the concentration of car enthusiasts is higher than at most other gatherings or meetings. Some Golfs had Bentley wheels and we even saw one with Hummer wheels, just to give you an idea to what extent people are customizing their cars at Worthersee.
Volkswagen themselves also exhibited a number of cars, such as the unique Golf GTI Dark Shine, which was created by a handful of VW apprentices aged between 17 and 25 years old. But other tuners also had their fair share of extreme cars on display, such as the Oettinger R500 with a crazy power output of 518 hp!
At 1:00 pm, the official press conference started and two more highlights were presented. The first was the Volkswagen Golf GTI Clubsport which will come into production soon, so the first happy clients will receive their car in 2016, which marks the 40th anniversary of the Golf GTI. The car is the most powerful GTI ever with 265 hp and it is also provided with a boost function which is expected to raise the power to 290 hp for a short period of time.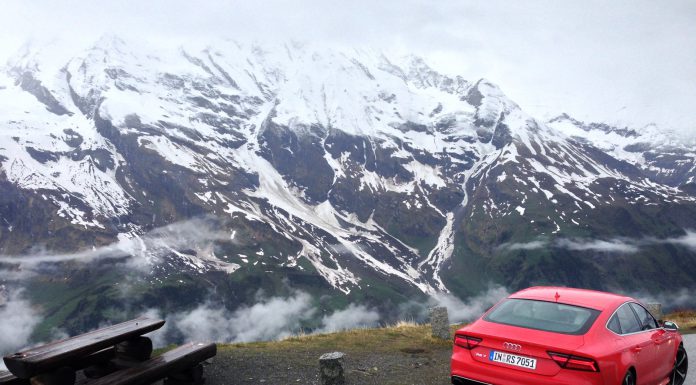 The second highlight was a concept car by the name of Golf GTE Sport, which is powered by a 1.6 liter combustion engine taken from the world rally championship Polo as well as two electric engines which deliver an output of 400 hp in total and propel the car from 0-100 km/h within 4.3 seconds. While the GTI Clubsport is almost ready for production, it is not sure yet if the GTE sport concept will ever make it.
The press conference was followed by a live music performance from Austrian singer Andreas Gabalier. Soon after, we decided to take the boat shuttle back to the Falkensteiner Schlosshotel and relax at the pool.
The next morning it was raining and it cooled off quite a few degrees from the 30 degrees Celsius when we arrived two days before. We decided to switch cars and chose a Misano Red Audi RS7 Sportback for our way back over the alps towards Munich. After all, we would obviously not be going the fastest route on the autobahn again, but some higher mountain passes instead. We opted for the Grossglockner High Alpine Road which reaches 2504 meters above sea level at its peak and was only recently opened in the beginning of May for the summer season.
Approaching the Grossglockner toll station, the temperature dropped considerably and when the lady at the gate asked us if we had snow chains with us, we really weren't so sure anymore if it was a good idea to go this route, but since we didn't feel like going back for another hour we decided to give it a try. The temperatures dropped further to close to freezing point and the walls of snow on both sides of the road really made us realise that we should be careful. But surprisingly the Audi RS7 had an enormous amount of grip in the cold and wet weather. Quattro all-wheel drive really helped us to accelerate out of corners like it was dry. It was breathtaking how we could maneuver the car in such adverse conditions.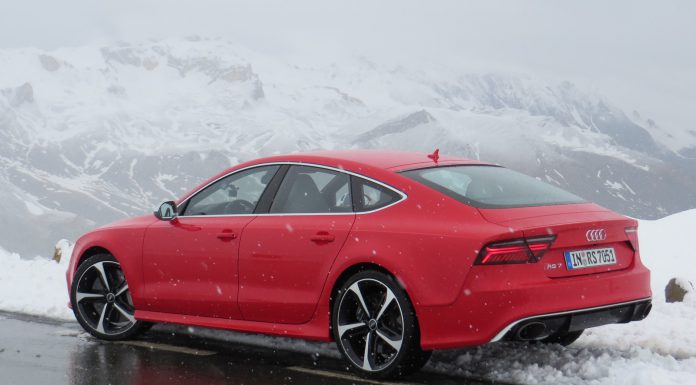 Exactly 400 kilometers later we returned the car at Munich airport and it might be interesting for some to note that the average consumption across the mountain passes and some blasting on the (unrestricted) Autobahn in Germany stood at 13.8l/100 km. Not a bad number for a car with 560 hp weighing two tons on this kind of roads we think.
Video of the trip:
[youtube]https://www.youtube.com/watch?v=JKOyuzPr55g[/youtube]