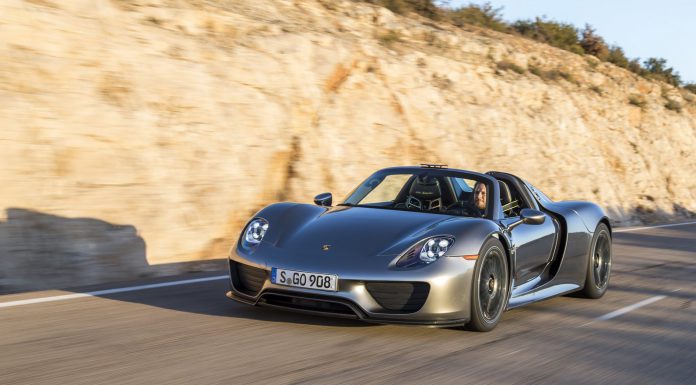 A recall for the Porsche 918 Spyder has just been announced following the discovery of a wiring problem of the German hybrid hypercar.
The recall affects all 918 Spyders produced up until April 2015 and impacts 223 examples in the United States. The problem itself involves the car's electric wiring harness for one of the many radiator fans. The harness can rub against a yet unnamed carbon fibre component potentially causing damage to the expensive wiring.
To fix the issue, the German marque will reroute the wiring harness to avoid any contact with the carbon fibre part. To prevent the problem from affecting any other 918 Spyders, the production line has already been updated.
Porsche says that diagnosing and fixing the problem will take half a day.
Interestingly, this is actually the third recall of the Porsche 918 Spyder. In September last year, 45 examples were identified to have issues with the rear axle control arm while just before Christmas, 205 units were recalled due to potentially defective chassis parts.
In case you didn't know, the Porsche 918 Spyder comes fitted with a mid-mounted 4.6-litre V8 engine producing 608 hp independently – the highest specific power of any naturally aspirated Porsche engine. The V8 is then supplemented by a further two electric motors mounted on each axle.
The electric motors can either drive the wheels independently or work together with the engine to boost performance. Each motor produces enough power to boost the total figure of 887 hp. A seven-speed Porsche Doppelkupplung (PDK) controls power delivery to the rear wheels.