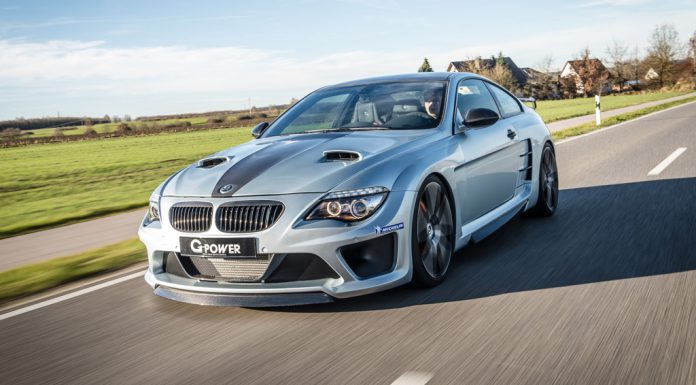 G-Power has just taken the wraps off its craziest ever BMW 6-Series with the release of the G6M V10 Hurricane CS Ultimate. The car has been created specifically for a customer in the United Arab Emirates and is the latest bespoke creation from the aftermarket tuning firm.
The G6M V10 Hurricane CS Ultimate makes use of the standard M6's 5.0-litre V10 engine but features a plethora of upgrades to make it's the most powerful car G-Power has ever created. Most significantly, two superchargers have been installed alongside a custom titanium exhaust system with racing cats. Additionally, a new cold air intake system is feature alongside larger charge air coolers, water and oil coolers. Large 120 mm tailpipes are also featured.
Consequently, the Hurricane CS Ultimate produces a Bugatti Veyron equalling 1001 PS (987 hp) at 8000 rpm and 900 Nm of torque at 6000 rpm. Those figures represent a 494 hp and 380 Nm gain over the stock BMW M6. As a result, G-Power claims that the G6M V10 Hurricane CS Ultimate can sprint to 100 km/h in a mere 4.3 seconds, 200 km/h in 9 seconds flat and 300 km/h in 21.5 seconds. With an optional taller final drive, the top speed sits at an immense 372 km/h.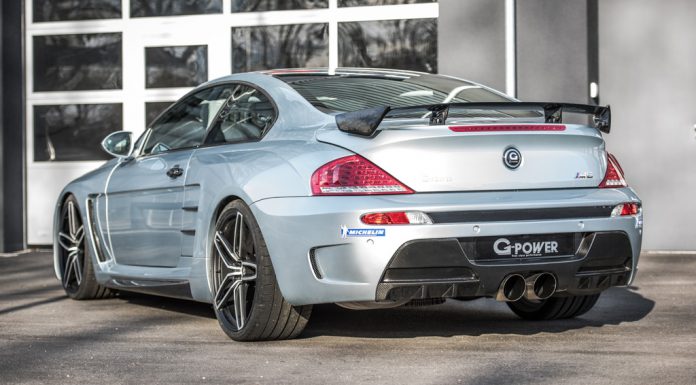 To help support all of this added power, torque and performance, G-Power has installed a set of fully adjustable coilovers to lower the vehicle's centre of gravity and to ensure it remains stable at speed. Upgraded brakes incorporating 400 mm vented carbon ceramic discs at the front have also been fitted.
Visually, the car features a bespoke bodykit. That new kit includes a revised front fascia with a different lower splitter and an aggressive bonnet with eye-catching air intakes. Large aftermarket wheels have also been installed alongside new front and rear quarters and side skirts. The rear end then adopts a prominent carbon fibre wing and diffuser.
[showhide]
"G-POWER of 1001 nights:
The G6M V10 HURRICANE CS ultimate from G-POWER, featuring
1001 HP / 736 kW and 900 Nm of torque, for a customer in the
United Arab Emirates
The goal of G-POWER as an engineering-based manufacturer is to help
die-hard enthusiasts realise their four wheeled dreams through the
creation of ultra-exclusive "One-of-One" cars.
The core of this philosophy is the uncompromising implementation of
ideas sans the restrictions normally encountered in the course of
conventional vehicle development. Underpinning this concept is the
comprehensive automotive engineering knowledge of G-POWER as a
manufacturer.
From first concept though design, technical development to
manufacturing at an OEM level, G-POWER's various departments
handle all the tasks required to turn a customer's dream into reality.
A prime example of this process in action is the G6M V10 HURRICANE
CS ultimate, which has just been delivered to its owner in the United
Arab Emirates.
Key Facts: G6M V10 HURRICANE CS ultimate – the most powerful G-POWER
vehicle ever.
• 1001 hp / 736 kW at 8,000 rpm (+ 494 hp/363 kW)
• 900 Nm at 6,000 rpm (+ 380 Nm)
• V-max: > 370 km/h
• 0-100 km/h: 4.3 sec
• 0-200 km/h: 9.0 sec
• 0-300 km/h: 21.5 sec
• M6 V10 SK III RRs bi-Kompressorsystem (twin-supercharger)
• Titanium exhaust system with Race-Cats and 2 x 120 mm tail pipes
• Full carbon-fibre Wide Body kit
• Ceramic brake system with 400 mm diameter brake discs
• 21-inch HURRICANE RR forged alloy wheels
• Coilover suspension with G-POWER "NÜRBURGRING SETUP"
• Hand-crafted interior
• Custom-built 'One-of-One'
The seed of the idea for this project was the customers desire to own
the ultimate sportscar, based around BMW's high-revving V10 and its
Formula 1 evocation.
PRESS RELEASE – BMW Models
With a BMW M6 E63 as the base car, G-POWER set about the
comprehensive modification, optimisation and refinement of virtually
all core areas of the car, meaning bodywork, engine, chassis and
interior.
The most obvious change at first glance is the HURRICANE Wide Body
Kit, whose extended wheel arches, large air intakes and front and rear
aerodynamic addenda lay the foundations for the significant chassis
and engine upgrade work.
Developed in the wind tunnel, the HURRICANE Wide Body kit takes
styling cues from the key elements of the M6 design and harmoniously
blends them with the G-POWER philosophy for a more purposeful look.
This bespoke carbon-fibre body kit highlights the exclusivity of this
'One-of-One' edition.
The G-POWER 5.0L V10 engine delivers the punch promised by the
aggressive external appearance. The headline numbers of 1001 hp /
736 kW and 900 Nm of torque ensure that the G6M V10 HURRICANE
CS is actually as fast as it looks. With an optional taller final drive, it
can achieve a top speed of 372 km/h.
To realise this, every component in the well-proven G-POWER SK III
supercharger system has been revised and optimised for life in this
rarefied strata of engine performance.
This uprating process begins with the optimisation of the cold-air intake
system with Ram Air effect ducting, enlargement of the charge air
coolers, water and oil coolers, and extensive testing of the revised
engine control software applications.
At the other end of the engine, an ultra-lightweight titanium exhaust
system with Racing Kats lowers backpressure and releases the exhaust
gases via two centrally positioned 120 mm diameter tailpipes, with a
subdued Formula 1 style soundtrack.
To ensure that the chassis of the HURRICANE CS G6M would not be
overwhelmed by the monstrous engine power, the engineers embarked
on a comprehensive suspension upgrade that has been thoroughly
track tested and signed off as the G-POWER 'NÜRBURGRING SETUP'.
This consists of fully adjustable coil-over suspension that lowers the
centre of gravity and ensures unerring stability at speed. To counter
the cars huge speed potential and lower unsprung weight, the four-
wheel ceramic brake system uses 400 mm vented brake discs to help
the driver of the G6 M HURRICANE CS ultimate stop safely at all times.
PRESS RELEASE – BMW Models
The massive G-POWER ceramic brake discs sit comfortably behind 9.0
and 10.5×21-inch HURRICANE RR ultra-light forged alloy wheels
wrapped in 255/25ZR21 and 295/30ZR21 Michelin tyres. Among the
lightest wheels available in these sizes, they perfectly complement the
design ethos of the G6M HURRICANE CS ultimate.
From behind the wheel, it quickly becomes apparent that G-POWER
has created a top-class cabin to match their cars exterior and
powertrain. Almost all surfaces are covered in high-quality leather or
Alcantara, featuring an innovative carbon imprint.
Using BMW M colours, the trim has been painstakingly handcrafted
with highlights such as the 'DIAMOND-stitch' decoration. Finest leather
is even used in the footwell area, and the A, B and C-pillars and
Alcantara headlining also feature decorative stitching.
A special highlight is the G-POWER plaque integrated into the roof LED
light bar. This bears the name of the owner, and testifies that this
unique vehicle truly is One-of One.
The ultra light race style seats have carbon-fibre backs and hold
occupants firmly in place at speed. The G-POWER logo adorns the
headrest trim. The door trim panels bear the G6M HURRICANE CS
ultimate name, and the complete centre console and parts of the
dashboard are made from clear-coated carbon-fibre. Last but not least,
the specially recalibrated 400-km/h G-POWER speedometer hints at
the incredible power and speed of this bespoke supercar.
Once testing was completed to G-POWER's satisfaction, the
G6M V10 HURRICANE CS was dispatched by air to the United
Arab Emirates. Initial feedback from its excited owner has been
nothing short of ecstatic: Mission Dream Car accomplished!"
[/showhide]