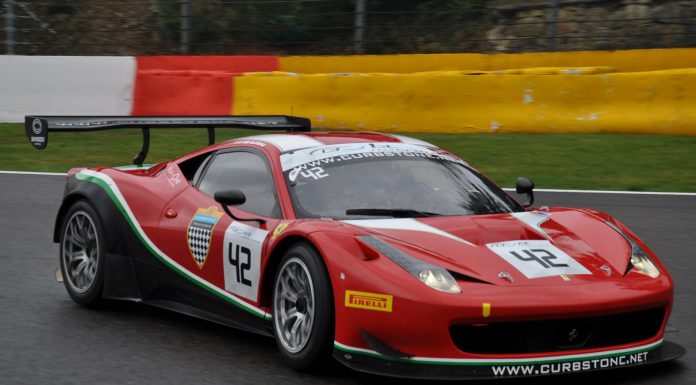 As we are used to from Curbstone , many enthusiast racers as well as professional teams are present to drive the track one fast lap after the other. Next to the many Ferraris and Porsches it was a Maserati that got most of the attention. With only 12 units sold worldwide, the MC12 Corsa was definitely the rarest car racing on the day.
Even more exclusive, but not racing because of the weather, was a Porsche 962. This classic Porsche is a sports-prototype racing car built as a replacement for the 956. As if it isn't exclusive enought we can tell you it was designed to comply with IMSA's GTP regulations and in total, Porsche only produced 91 962s between 1984 and 1991 wherefrom 16 were officially used by the factory team, while 75 were sold to customers.
The owner of the event brought his 458 GT3 to Spa Francorchamps as well. The car has had the most recent upgrades and is with it's complete new livery ready to compete in the 24h of Francorchamps next July. Knowing how professional the 4 men strong team is, we can only hope that their result in the race is as good as the looks of the car.
Next to this we spotted multiple Ferrari 458 Challenges, a 430 GT3, an SLS AMG GT3, an Audi R8 LM, a more than stunning Aston Martin Vantage GT3 that competes in the Blancpain series and many more.