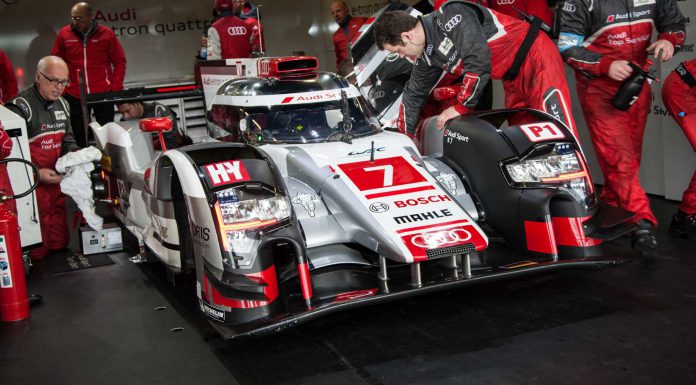 The opening round of the 2015 World Endurance Championship was held at Silverstone 10-12th April. Pole position was taken by No 17 Porsche driven by Mark Webber and Brandon Hartley.
The start of the race saw a twist this year, instead of the cars being lined up in grid formation FIA have stated that the cars will be lined up in the style of the Le Mans 24 hours race. The cars will be parked with the rear to the pitwall and facing the grandstands. The teams then line up across the grid for the national anthem. Once the grid walk was completed they then drive out onto their formation lap to complete the rolling start.
The no 17 Porsche led up to the first hour however due to a gearbox issue the Porsche was forced to retire. The general feeling from the weekend was that a Porsche would take the win, however it was not to be. Audi were back on top form to take their 18th win in the No 7 R18 E-tron Quattro driven by Fassler/Treluyer/Lotterer. The No 7 Audi was leading the race by a whopping 72 seconds, however with only fifteen minutes remaining they were served a stop-go penalty for exceeding track limits. Audi managed to keep a lead of 4.6 seconds ahead of second place No 18 Porsche driven by Dumas/Jani/Lieb and the No 1 Toyota TS040 Hybrid driven by Davidson/Buemi/Nakajima took the final place on the podium.
The battle of the LMP2 class was won by No 26 G-Drive racing Ligier JS P2- Nissan, securing a 1-2 finish for the team. The LM GTE- Pro class win was taken by nO 51 AF Corse Ferrari and LM-GTE-AM class was won by No 98 Aston Martin Vantage V8.
The opening round of the season saw all three top manufacturers lead the race at one point proving that the race win could go to any team which had the correct mix of stamina, longevity and quick pit stops.
The next round of the WEC will take place on 2nd May at Spa-Francorchamps.
Our photographer Steven Roe was live at the first round of WEC and we have included a selection of his favourite shots from the weekend.