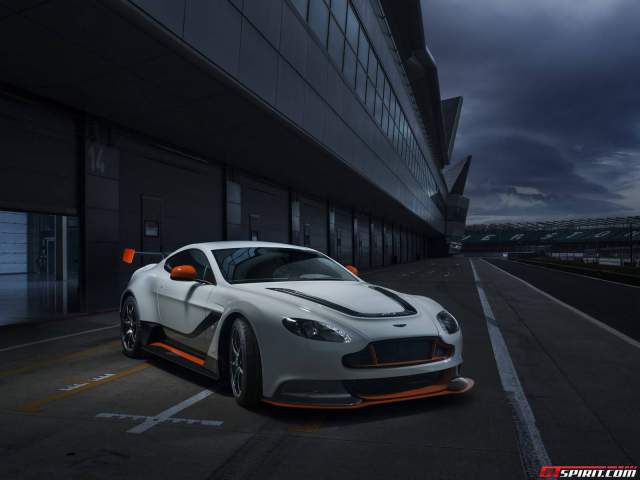 It has just been confirmed that the name of the recently introduced Aston Martin Vantage GT3 has been changed to GT12 after Porsche objected to the name of the hardcore, road-going Vantage.
Of course, one of Porsche's most famous ever models is the Porsche 911 GT3 and it evidently wasn't happy that Aston Martin chose to include the GT3 badge onto the new Vantage variant. Of course, various other cars have included GT3 in their name in the past with one of the world's largest and most recognisable racing categories also known as 'GT3'.
Nevertheless, the German marque managed to get its way with Aston Martin confirming to Motor Authority that it has indeed changed the name of the Vantage GT3 to the Vantage GT12.
"[R]ather than distract ourselves having a naming disagreement with Porsche, we would prefer to focus our energy and investment on the car and on making sure our customers receive the best possible Aston Martin," the marque's public relations manager for the Americas, Matthew Clarke said.
As a reminder, the newly named Aston Martin Vantage GT12 will be limited to just 100 units with each featuring the firm's customary 5.9-litre V12 engine tuned to deliver 592 hp as well as 461 lb-ft of torque. By comparison, the already potent Aston Martin V12 Vantage S produces 565 hp and 457 lb-ft. Helping to achieve the power and torque gains are new inlet manifolds, a titanium exhaust system as well as tweaked geometry. Finally, the torque tube is now made of lightweight magnesium and the titanium exhaust alone saves 19 kg from the car.
Thanks to this engine, the Vantage GT12 will accelerate to 96 km/h from a standstill in a mere 3.5 seconds down from the 3.7 seconds needed by the V12 Vantage S. Due to the added downforce generating elements of the Vantage GT12 however and the higher drag, the top speed has dropped from 329 km/h (205 mph) to 297 km/h (185 mph). Tweaks to the seven-speed transmission have also been made.
[Via Motor Authority]