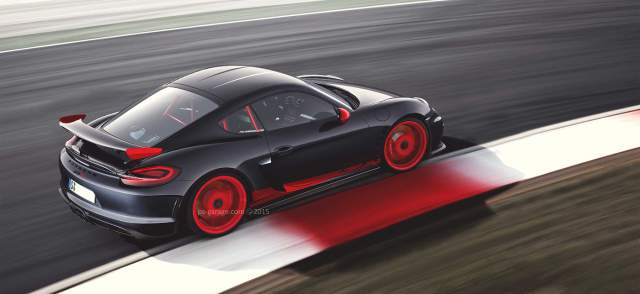 Just yesterday, we reported that an even more hardcore variant of the Porsche Cayman GT4 could be produced in the form of a GT4 RS. With that in mind, the crew over at PS Garage have sent us a rendering of how such a possible Cayman variant could look.
Most obviously, the car rendered features a livery inspired by the Porsche 911 GT3 RS. As a result, it includes bright red wheels, red rear wing endplates, wing mirrors and a red livery. Additionally, the rollcage has been imagined in a matching shade of red.
If a Porsche Cayman GT4 RS was created, it would likely feature less weight and even more power than the Cayman GT4. Additionally, the suspension setup would also be modified to provide even better on-track performance.
While recently speaking with Evo Magazine at the Geneva Motor Show 2015 about such a car, Porsche Motorsport boss Andreas Preuninger said "This is just the beginning of the era. I would be interested in doing a Cayman GT4 RS version, but at the moment we didn't even talk about such a thing. If the customers call for something like this we could think about it.
"We underestimated the success of the Cayman GT4, which shows that we were right with the concept. In England, within three days two years of cars were sold. It happened in Sweden, it happened in Germany…everywhere," he said.
As it stands, the Cayman GT4 is powered by a 3.8-litre flat-six that produces 385 horsepower, a power unit that has been derived from the 991 911 Carrera S. Of course as with all other Cayman models, the GT4's engine is mid-mounted.
[Via PS Garage]