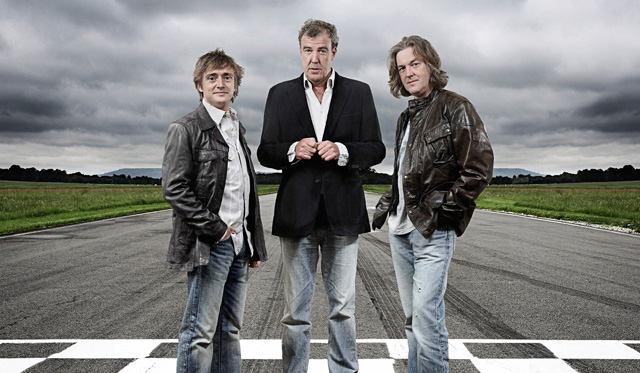 Top Gear Season 22 Episode 6 airs tonight on BBC 2 and BBC 2 HD at 8 pm. The sixth episode of the season leaves us four episodes to the end. Jeremy Clarkson, James May and Richard Hammond are all back for this week's episode which includes a feature film, a Star in a Reasonably Priced Car and a review!
Tonights show see Richard Hammond stranded in British Columbia while testing a watch with a built in distress beacon. Unfortunately for him, the signal is received by Jeremy Clarkson and James May back in the UK meaning that the response is not quite as prompt as it could be.
Eventually Jeremy and James board a plane a pick up two pickup trucks for the journey to find their colleague. Of course, the trucks are anything but normal. Jeremy gets a Hennessey Performance tuned Ford Raptor. James chooses a Chevrolet Silverado.
Top Gear Season 22
Top Gear Season 22 Episode 6 also features Jeremy Clarkson's review of the Lexus RCF Coupe. The new Lexus features a 5.0 litre V8 with 467 hp and an 8-speed Sport Direct Shift automatic transmission. It remains to be seen what Jeremy thinks of the car but it is worth noting that he loved the Lexus LFA last time he drove it.
Top Gear Season 22 Episode 6 sees Gillian Anderson take to the wheel of the Vauxhall Astra Tech Line for the Star in a Reasonably Priced Car. The US actress is arguably best known for her role in the TV series X Files where she played FBI Special Agent Dana Scully.
[youtube]http://youtu.be/Du5305O5Yfg[/youtube]
Next week's episode features FIA World Rallycross and reviews of the excellent Jaguar F-Type R, stunning Eagle Low Drag GT and the brand new Mazda MX-5. We also have another classic car segment to look forward to the following week, we can't wait!
Whatever you do, do not forget to tune into Top Gear Season 22 Episode 6 tonight at 8 pm on BBC 2 and BBC 2 HD.
[youtube]http://youtu.be/kgRom5gINtI[/youtube]