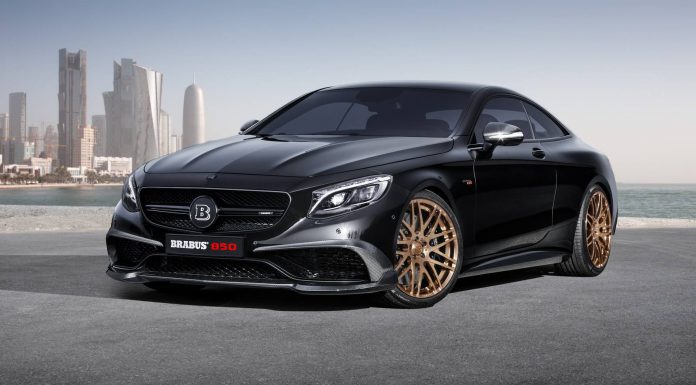 We all knew it would be coming; the Babus-tuned Mercedes-Benz S 63 AMG Coupe! The Brabus 850 Mercedes-Benz S63 AMG Coupe will make its official debut at the Geneva Motor Show 2015 next week. Brabus explain that this is the fastest and most powerful all-wheel drive Coupe currently available.
Based upon the Mercedes-Benz S 63 AMG 4MATIC, the Brabus 850 benefits from 850 hp from 5,400 rpm and 1,450 Nm of torque between 2,500 and 4,500 rpm (electronically limited to 1,150 Nm). The increased power allows for a 0-100 km/h sprint time of 3.5 seconds and a 350-km/h top speed.
To release the extra performance, Brabus fit a new crankshaft with a longer stroke plus an enlarged cylinder bore and correspondingly larger forged pistons. Displacement increases from 5.5 litres to 6.0 litres as a result. The turbochargers are also replaced with larger units with modified exhaust manifolds.
Special metal catalysts with 75-mm thick down pipes and a Brabus sports exhaust system help release a powerful new sound. Brabus also fit a new intake module and a Gold Heat Reflection sheathing for the intake and charge air pipes. Finally, a new ECU module provides new mappings for injection and ignition.
The Brabus 850 Mercedes-Benz S63 AMG Coupe transmission is a seven-speed automatic transmission, which is controlled by aluminium paddle shifters. The all-wheel drive system is optional, a rear-wheel drive system can also be specced.
Aerodynamic enhancements include a clear-coated carbon fibre front spoiler, a carbon-fibre diffusor and a subtle rear spoiler for the trunk lid. Carbon fibre side air outlets are also carbon fibre and add a sporty look.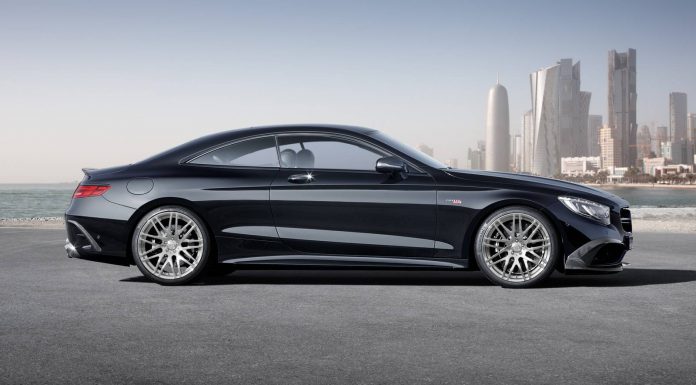 Wheels of choice are Brabus Monoblock wheels, available in sizes between 18 and 22 inches. The Geneva show car sports Monoblock F cross-spoke wheels in Shadow Gold Chrome design measuring 21 inches front and rear. Tyres are supplied by Continental, Pirelli and YOKOHAMA. Brabus suspension means the ride height is 15 millimetres lower.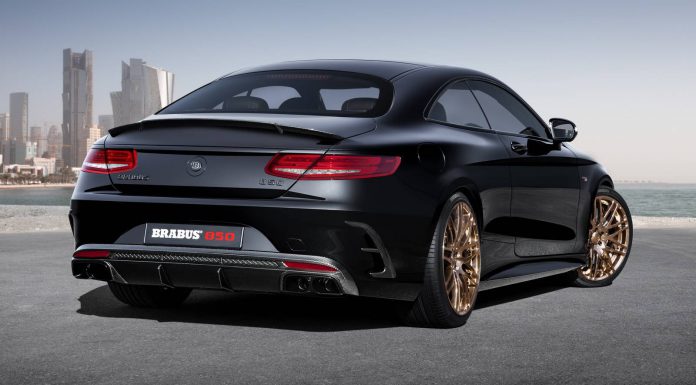 The interior gets black Mastik leather with subtle copper-colored seams and piping. 219 individual parts were coated in the same Shadow Gold tone as the Monoblock F wheels while the headliner was crafted from deep black Alcantara. To finish it off, Brabus add carbon-fibre and aluminium elements.
The Brabus 850 Mercedes-Benz S63 AMG Coupe gets scuff plates with a backlit Brabus 850 logo, a 400 km/h (250-mph) Brabus speedometer and other badging. The Brabus 850 Mercedes-Benz S63 AMG Coupe can be ordered as a complete package or as a series of separate components.