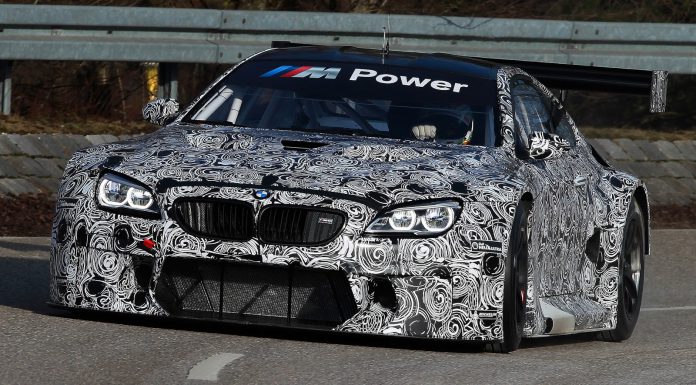 Back in October of last year, BMW released a couple of artist impressions of the upcoming BMW M6 GT3 race car. Now official images of a prototype in the development stages have been released with the new German racer shaping up to replace the BMW Z4 GT3.
Beneath the skin, the BMW M6 GT3 uses a tweaked variant of the road car's 4.4-litre twin-turbocharged V8 engine. Specific power and torque figures haven't been released, but the firm has confirmed it will pump out more than 500 hp. The modified engine will then be mated to a sequential transmission with six-speeds and driving the rear wheels. All told, the BMW M6 GT3 racer will tip the scales at less than 1300 kg.
Beyond the mechanical changes to the road car, the BMW M6 GT3 will implement numerous new aerodynamic aids to ensure it is as fast around a track as possible. As such, the M6 GT3 will include a completely revised front fascia with a different bumper, air intakes and grille. Additionally, prominent air extractors can be found on the bonnet while lowered side skirts are also found alongside the flared wheel arches. The rear is then categorised with a towering wing with this uprights.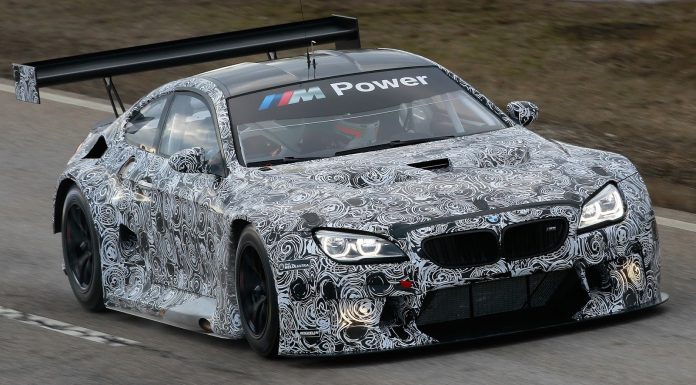 Testing of the car has been conducted by Jorg Muller and when discussing the racer, Muller said, "It is a fantastic moment when you walk into the garage and see this stunningly beautiful car. I am very proud to have taken it out for its first few kilometres. A roll-out is obviously just an initial performance test but, on the whole, everything was very good and we had no problems. The engine really impressed me. It is powerful and has good torque, which is important for a car like this. I am confident that BMW Motorsport will provide its customers with a fantastic racing car, in the BMW M6 GT3."
BMW Motorsport director Janes Marquardt added to this by saying, "This car incorporates all the experience we have gained in recent years on the endurance and GT racing circuits. We are well on schedule with the development, and are confident we will be able to take to the track in 2016 with a package that is competitive from the outset."