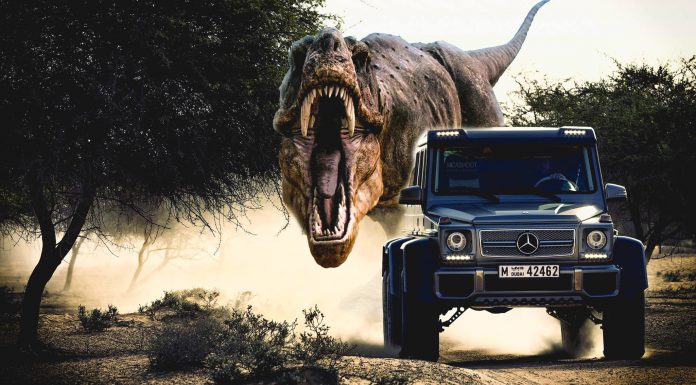 So we know that the brand new Mercedes-Benz GLE Coupe will star heavily in the latest Jurassic Park film, Jurassic World. What would the German marque's most insane offroader look like if it were to feature in the dinosaur inspired film however? Well MCAShoot Organisation set out to answer that question and has created the following rendering with the always impressive and absurd Mercedes-Benz G63 AMG 6×6.
Unlike Mercedes-Benz models used in previous Jurassic Park films, the G63 AMG 6×6 could be left entirely stock and it still wouldn't look out of place in the jungle surrounded by not only treacherous terrain but also flesh eating beasts. There's no questioning the fact that the G63 AMG 6×6 wouldn't certainly be more at home on the set of Jurassic World than the Mercedes-Benz GLE Coupe.
In case you didn't know, the Mercedes-Benz G63 AMG 6×6 gets its origins form the C320 CDI developed specifically for the Australian army recently and measures an incredible 5867 mm long, 2111 mm wide and 2209 mm tall. What these figures mean is that the Mercedes-Benz G63 6×6 is an impressive 43.5 inches longer than the standard car, and once seeing the car in action, it's little wonder why the extra two wheels add so much length.
Whereas the military version only features a 3.0-liter diesel engine, this unit which is available to anyone rich enough in the public is fitted with the G63 AMG's 5.5-liter bi-turbo V8 engine pumping out 536 hp and 560 lb-ft of torque. This engine is then mated to a seven-speed 7G-tronic transmission driving all six wheels.