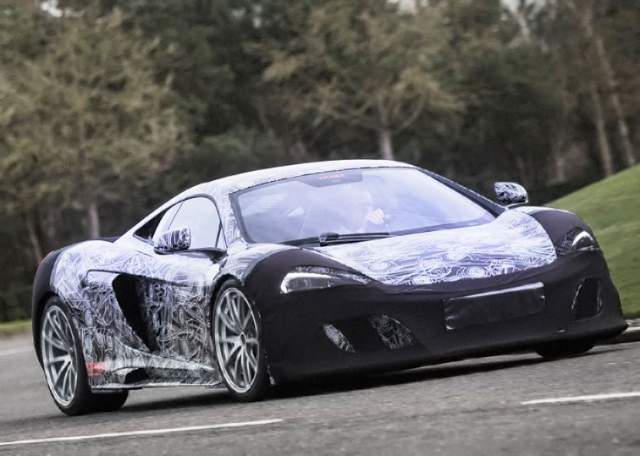 McLaren have officially confirmed that the a "track oriented" version of the McLaren 650S will debut at the Geneva Motor Show 2015 alongside the McLaren P1 GTR. The news was officially revealed through McLaren's Facebook page. At first the Woking-based company posted a photo of a test mule, quickly followed by a revealing message once fans began to comment.
The track-oriented McLaren 650S will compete with the Ferrari 458 Speciale. News broke earlier this week suggesting that the new model will be named the McLaren 675 LT. The biggest confirmation McLaren could possibly give at this stage is hidden within the camouflage. If you take a close look, you will see blueprint sketches of the original McLaren F1 Longtail!
The McLaren 675 LT is reported to form a limited edition 250 unit run to slot between the P1 and 650S. The 3.8 twin-turbo V8 will pack a 670 hp punch together with weight reductions in the region of 220 pounds. The car will feature a new front and rear facia. The rear is expected to feature a long tail design with heavy influence from the McLaren P1.
The car that many are waiting to see is the McLaren Sport Series. We suspect that Geneva won't be the platform for this release. Many expect the British company to head stateside towards the New York Auto Show 2015.
The message McLaren left fans on Facebook was as follows:
We don't like to keep you guessing for too long. It's a track-focused development of the 650S and it will be at the Geneva Motor Show alongside the McLaren P1™ GTR.