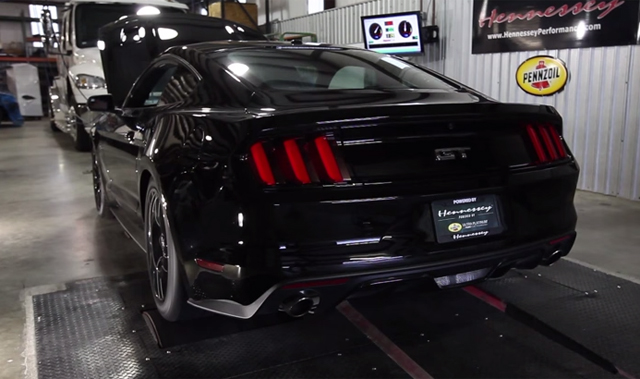 Hennessey Performance has commenced testing on its potent HPE700 package for the 2015 Ford Mustang GT with the first few dyno runs recently being completed and unsurprisingly, the tuned American muscle car lives up to its claims.
[youtube]https://www.youtube.com/watch?v=MuJ0QjvDICs[/youtube]
As the name of the HPE700 package indicates, it has been created to lift power from the 5.0-litre V8 from 435 hp up to 700 hp. This particular example managed to put down 717 hp and 632 lb-ft of torque at the crank when it hit the dyno which translates to 663 hp and 525 lb-ft at the rear wheels.
The staple of the Hennessey Performance upgrades is the addition of a Roots-style supercharger. Additionally, the throttle body has been upgraded, a stainless steel exhaust system added as well as upgrades to the fuel injector and fuel pump.
As a result of the potent engine upgrades, Hennessey Performance claims the car can hit 96 km/h (60 mph) in a mere 3.6 seconds and complete the quarter mile in just 11.2 seconds at 210 km/h.