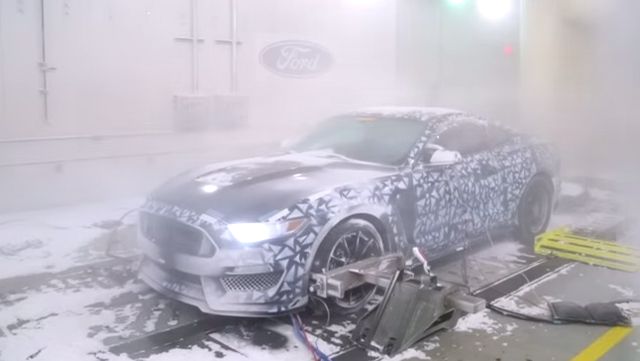 Not only does the brand new Ford Mustang Shelby GT350 promise potent performance both on and off the track, Ford employed extensive measures throughout its development to ensure that no matter the climate or weather, it can perform. To do this, Ford tests its new cars like the Mustang Shelby GT350 in a special climate chamber which can replicate conditions from -40 degrees Celsius through to 54 degrees Celsius.
[youtube]https://www.youtube.com/watch?v=neGruaP7I7o[/youtube]
The chamber doesn't just provide different temperatures however. It can also replicate driving in snow, under the burning sun, at different altitudes and going up and down hills. As a result, the testing regime really helps ensure Ford products like the new Mustang GT350 very rarely fail do to climatic conditions alone.
Beneath the skin, the 2015 Ford Mustang Shelby GT350 uses a high-revving 5.2-litre V8 engine promising to deliver over 500 hp and 400 lb-ft of torque. This new engine uses a flat-plane crankshaft as rumoured to help the engine breathe easier. When it is all said and done, this new 5.2-litre V8 is the most powerful naturally aspirated Ford production car engine ever revealed.
To help bring the mighty new GT350 to a stop, the car utilises six-piston Brake calipers at the front clamping down on 394 mm two-piece cross-drilled iron brake discs. At the rear, four-piston Brembos are found alongside 380 mm discs. Another important aspect of the 2015 Ford Mustang Shelby GT350 is its MagneRide dampers. The car also includes an injection-moulded carbon fibre composite grille opening and shock tower brace to stiffen up the chassis to provide extra rigidity and handling performance.