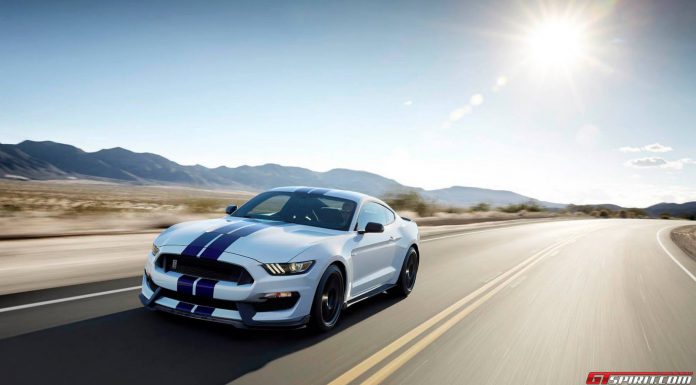 After a selection of teaser images, the 2015 Ford Mustang Shelby GT350 has officially been introduced. Targeted squarely at the impressive Chevrolet Camaro Z/28, the new Shelby GT350 is the first high-performance derivative of the sixth-generation Mustang range and is debuting at the Los Angeles Auto Show 2014 this week.
Beneath the skin, the 2015 Ford Mustang Shelby GT350 uses a high-revving 5.2-litre V8 engine promising to deliver over 500 hp and 400 lb-ft of torque. This new engine uses a flat-plane crankshaft as rumoured to help the engine breathe easier. When it is all said and done, this new 5.2-litre V8 is the most powerful naturally aspirated Ford production car engine ever revealed.
As you would expect, power is then sent to the rear wheels through a six-speed manual transmission. A tweaked Torsen limited-slip differential is also utilised. As of yet, Ford has yet to release performance details about the new Mustang Shelby GT350 but these could come at the L.A. Auto Show itself or at a later date.
To help bring the mighty new GT350 to a stop, the car utilises six-piston Brake calipers at the front clamping down on 394 mm two-piece cross-drilled iron brake discs. At the rear, four-piston Brembos are found alongside 380 mm discs. Another important aspect of the 2015 Ford Mustang Shelby GT350 is its MagneRide dampers. The car also includes an injection-moulded carbon fibre composite grille opening and shock tower brace to stiffen up the chassis to provide extra rigidity and handling performance.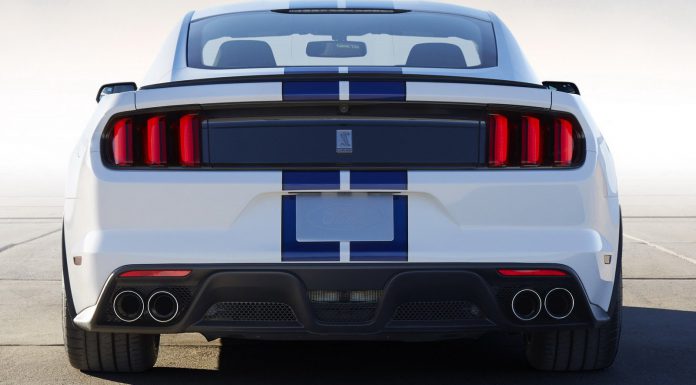 From a styling and aerodynamic standpoint, the Mustang GT350 utilises a revised front bumper and air intakes, a prominent splitter and new side skirts. Elsewhere, a revised bonnet has been installed alongside an aggressive and downforce generating rear diffuser and quad tailpipes.
Discussing the car, Ford group vice president of Global Product Development, Raj Nair, said,
"When we started working on this car, we wanted to build the best possible Mustang for the places we most love to drive – challenging back roads with a variety of corners and elevation changes – and the track on weekends. Every change we made to this car was driven by the functional requirements of a powerful, responsive powerplant – nimble, precise handling and massive stopping power."
Furthermore, chief engineer of Ford Global Performance Vehicles, Jamal Hameedi had this to add, "We took the best Ford Mustang yet and massaged every aspect of the car that affects the performance driving experience. We tested endlessly on the most challenging roads and tracks in the world, and we believe serious drivers will love the Shelby GT350 Mustang."