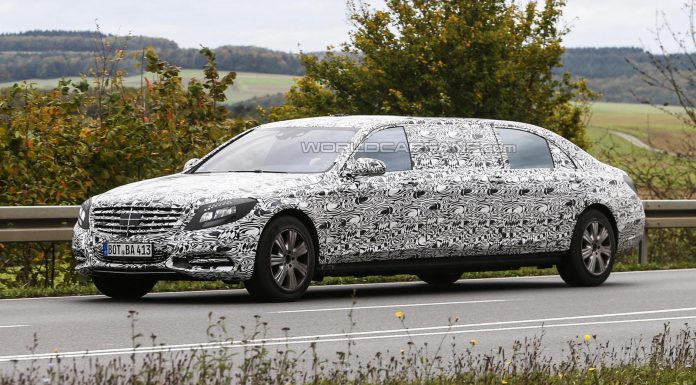 New spyshots of the stretched Mercedes-Maybach S600 Pullman have emerged after a heavy disguised prototype was snapped testing in Germany.
Just recently, Mercedes-Benz confirmed that its ultra-exclusive and luxurious S-Class variants would wear the Mercedes-Maybach badge. This follows on from the firm's recent decision to also ditch 'Benz' with the new Mercedes-AMG GT and Mercedes-AMG C63.
All up, it is believed that the Pullman is 6.4 metres long and because of this, will feature a 2+2+2 seating layout. The passenger compartment will have four seats facing each other and be separated from the driver's section with a partition similar to a traditional limousine.
In S600 specification, the Pullman should feature the same 6.0-liter twin-turbocharged V12 engine delivering a total of 523 hp between 4900 rpm and 5300 rpm and 612 lb-ft of torque between 1900 and 4000 rpm as the standard length S 600. Due to the increased weight and size of the Pullman, it won't be as fast nor as efficient as the standard S-Class however.
When the Pullman hits the market, it will reportedly cost over $1 million and comfortably be the company's most expensive model. It will be revealed next year after the smaller Mercedes-Maybach debuts at the Los Angeles Auto Show next month.
[Via World Car Fans]