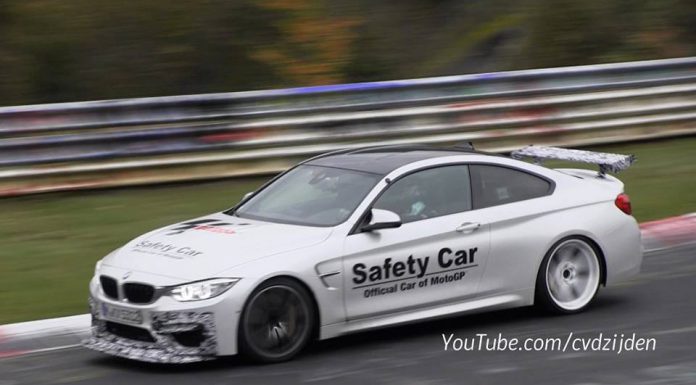 Last month, a mysterious BMW M4 prototype was spied testing on the Nurburgring. Now that same prototype has been filmed testing at the famous German racetrack at full pace and it still leaves us with many unanswered questions.
[youtube]http://www.youtube.com/watch?v=8VphoCmic_g[/youtube]
The thing which has caused some debate about this prototype are the MotoGP stickers it is wearing making it appear like the MotoGP safety car. However, the car also features a host of aerodynamic and visual changes and could be an early prototype for a lightweight, M4 GTS variation. For example, it features a revised front bumper and splitter as well as a fixed rear wing. Additionally, the car is sporting a special set of lightweight wheels as well as Recaro racing seats.
With all that being said, it does look very similar to the BMW M4 recently introduced by Lightweight to deliver a total of 520 hp thanks to its tuned 3.0-litre twin-turbocharged six-cylinder engine.