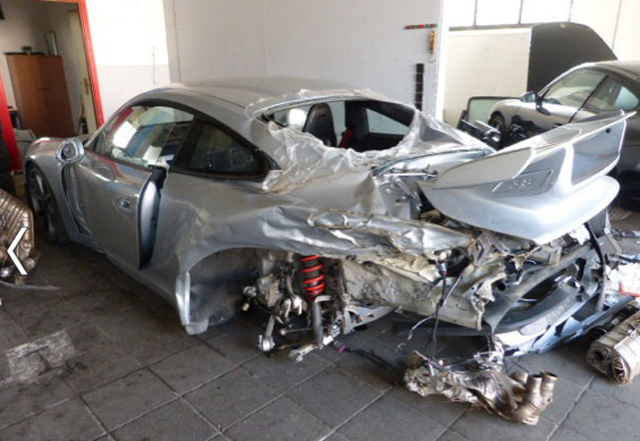 An absolutely destroyed Porsche 991-generation 911 GT3 is currently up for sale in German for the equivalent of $64,000 in the U.S. So what do you get for more than a base C7 Corvette?
Basically an engine, the interior and some body panels, brakes and wheels. The advertiser says that at the time of the crash, the GT3 had a mere 156 km on the clock meaning the 3.8-litre six-cylinder engine is still brand new. Despite featuring a new engine, the German sports car was recalled earlier this year after a number of engine-related fires which resulted in all GT3s being fitted with new engines. As a result, having an original 991 GT3 engine might be a bad idea…
Because most of the damage to the following GT3 appears to have been sustained by the rear-end, the front of the German sports car doesn't look too bad with the exception of the broken bumper. Most of the mechanicals at the front are likely in tact including the expensive brake and suspension components not to mention the wheels and sticky rubber.