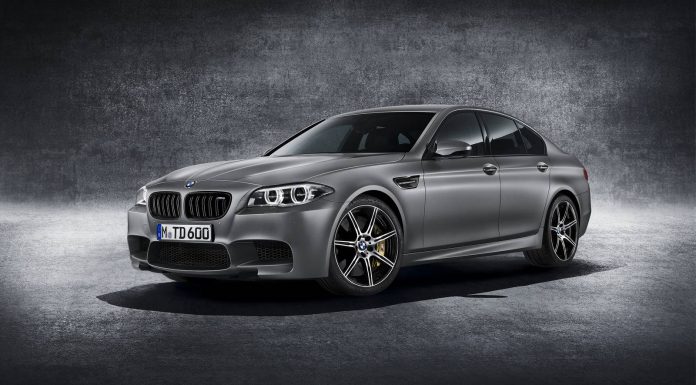 As the most powerful BMW production car ever, the special BMW M5 30 Jahre Edition is extremely potent. Just how potent you ask? Well the following video shows the car sprinting to 0-300 km/h very, very quickly.
[youtube]https://www.youtube.com/watch?v=uAEEPaJ7kqs#t=13[/youtube]
Under the hood, the BMW M5 30 Jahre Edition comes standard with the same 4.4-litre twin-turbocharged V8 engine as all other M5 models. However, this engine also comes with the Competition Package and thanks to increased turbocharger pressure and engine control module improvements, an extra 25 hp has been found. Consequently, the BMW M5 30 Jahre Edition delivers a brutal 600 hp and the German marque claims it will hit 96 km/h (60 mph) in a mere 3.7 seconds.
Alongside the engine enhancements, the M5 30 Jahre Edition comes with a numbered plaque in the cabin, a black Alcantara and leather combination across the M multifunctional seats as well as special embroided badges for the special edition M5. Finally, the centre console and door panels are finished in black Alcantara with the headliner featuring Alcantara anthracite.
Just 300 units of the BMW M5 30 Jahre Edition will be produced and of those, 30 will be imported to the United States where pricing will start at $138,275.