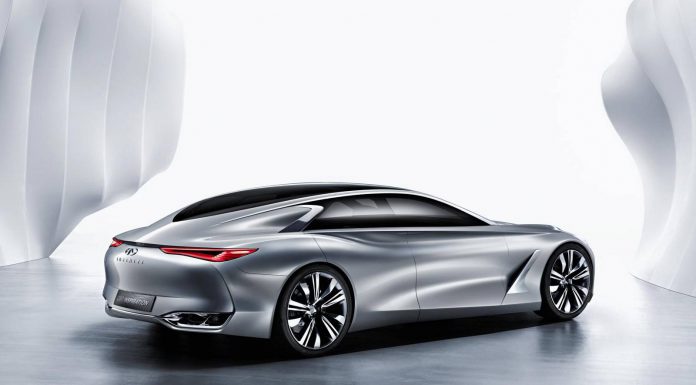 The star of Infiniti's booth at the approaching Paris Motor Show in early October will be this, the all-new Q80 Inspiration concept. The Japanese automaker says the Q80 is a "category-breaking" and luxurious "top-of-the-line four-seat fastback," and is the next step in the brand's portfolio expansion, which began with the introduction of the Q30 Concept and the bonkers Q50 Eau Rouge.
The Q80 Inspiration could be seen as Infiniti's answer to other large luxury fastback sedans, such as the Mercedes-Benz CLS or the Audi A7. The styling of the concept builds on Infiniti's swoopy and sculpted design language, doing away with door mirrors and handles to not interrupt the flowing body lines. Infiniti says it will serve as inspiration for its four design studios all over the world in coming years, so if you're wondering what a 2016 or 2017 Infiniti might look like, look no further than the Q80 Inspiration.
Likewise, if you're wondering what Infiniti's future powertrain offerings might entail you should also look to the Q80 Inspiration. It's only a concept, but Infiniti envisions a hybrid-electric powertrain for the car. They also say the Q80 provides a glimpse into the high performance hybrid-electric powertrain implementation on its vehicles going forward.
Inside the Q80 Inspiration also hints at future Infiniti design, bringing the four cabin occupants together "in a highly stylized and personalized ambiance of the highest quality," Infiniti says. It is mostly made from carbon fiber, aluminum and leather and features unique "1 + 1 + 1 + 1″ seating layout. It's not clear how 1+1+1+1 differs from a standard 2+2 arrangement, but that and much more will become clear when the car makes its official debut on October 2 in Paris.