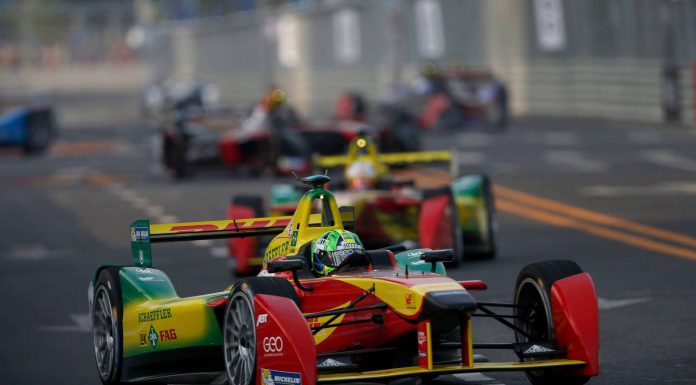 History was made in Beijing this weekend after the first ever Formula E race took place successfully. It was Audi Sport ABT's Lucas di Grassi who was lucky enough to score the first win of the new season in a race which ended in a big crash. The crash occurred in the final corner involving Nicolas Prost and Nick Heidfeld who were both fighting for the lead. This was after Prost dashed to the inside leading to an inevitable collision.
Heidfeld walked out of the crash unhurt but that was after his car flew in the air and later landing on the tire banners. di Grassi saw this opportune moment and went ahead to claim a maiden Formula E win. Prost was given a 10 place grid penalty which will take effect in the next race. Finishing in second place was Franck Montagny driving for Andretti Autospor who finished three seconds after di Grassi crossed the line.
Daniel Abt another Audi Sport ABT driver crossed the line in third but on return to the pitlanes he was handed a 57 second penalty for exceeding the allowed battery consumption. He used 28.2kW out of the allocated 28kW. Abt was not alone, Katherine Legge and Jaime Alguersuari were also penalized for the same error. Third place was thus left to Virgin Racing's Sam Bird while Andretti driver Charles Pic finished in fourth enough to give this team an early lead in the Teams' standings.
Mahindra Racing Karun Chandhok finished in fifth, while his teammate Bruno Senna retired in the early laps after the front suspension on his car broke. Round two of the Formula E will take place in Putrajaya on November 22.
Immediately following the race, di Grassi said, "Firstly, I'm happy Nick [Heidfeld] is ok and it shows how safe these cars are. To win the race is like a dream come true. I was lucky to be in the right place at the right time. The team did a great job all through practice and qualifying, yes we made a few mistakes but overall I'm extremely happy to be the first ever winner of a Formula E race."
After his disappointing end to the race, Heidfeld said, "I thought it was going to be a very big crash as well. Once I hit the kerb it felt like I was in the air forever. I closed my eyes and waited for the impact and then I thought 'Oh that was lucky!' I have a small pain in my calf but apart from that I'm perfectly fine."