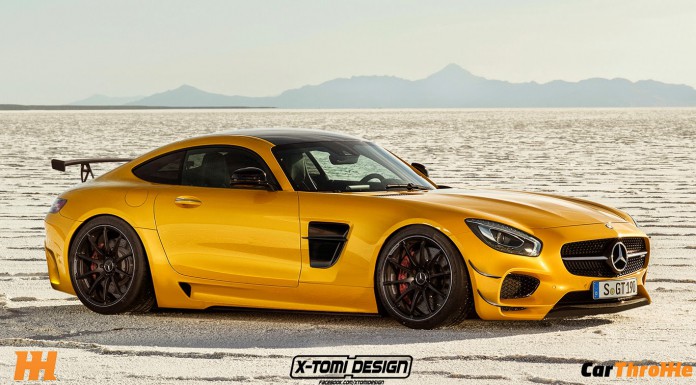 As it stands, two variants of the 2015 Mercedes-AMG GT are available. The first is the standard AMG GT while the range-topper is currently the AMG GT S. Further down the road however, the Porsche 911 and Jaguar F-Type Coupe competitor will likely be offered in further variations meaning a Black Series spec car is quite likely to hit the market eventually.
To help us imagine how a Mercedes-AMG Black Series could look, X-Tomi Design has created the following renderings. The car presented features similar styling upgrades to the SLS AMG Black Series which means prominent carbon fibre front canards, a new front splitter and bonnet, blacked out wheels, carbon fibre side grilles, wing mirrors and side skirts as well as a carbon fibre rear wing are featured.
Let us know your thoughts about the car below!
In case you somehow forgot, the GT is the second sports car developed entirely in-house by Mercedes-AMG (the SLS AMG being the first). It gets a front mid-engine layout. The engine of choice is a newly developed AMG 4.0-litre V8 biturbo unit with 462 hp in GT specification. A GT S model will also be available producing 510 hp. The engine meets the Euro 6 emissions standard, including the maximum particulate emissions level that takes effect in 2016.
Zero to 100 km/h is possible in the GT S in 3.8 seconds with a top speed of 310 km/h. The V8 is particularly ground breaking for its use of dry sump lubrication and its integrally mounted turbochargers. The transmission is a seven-speed dual clutch unit fettled by AMG engineers. Weight is just 1,540 kilograms and weight distribution is spread 47:53 per cent, front to rear. The power-to-weight ratio of 3.3 kilograms per hp sounds pretty impressive for a car of this class. The GT also manages fuel consumption of 9.3 litres per 100 kilometres (NEDC combined).
The suspension system includes a double-wishbone at the front and rear. Wishbones, steering knuckles and hub carriers on the front and rear axle are manufactured entirely out of forged aluminium in order to reduce the unsprung masses. The Mercedes-AMG GT S also gets electronically controlled damping as standard with this feature an optional extra on the GT. Three stages are available: "Comfort", "Sport" and "Sport plus".