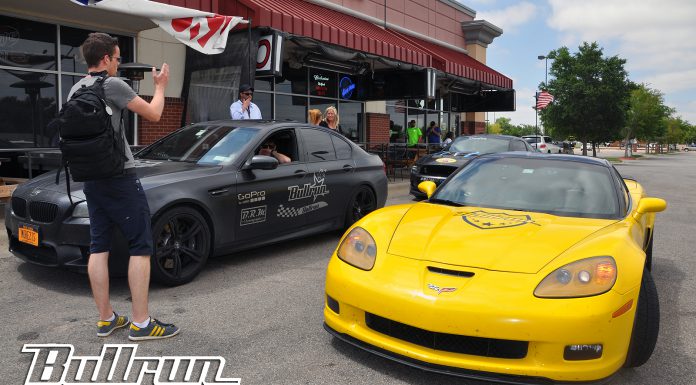 We previously showed you episodes 1 & 2 and episodes 3 & 4 of our Bullrun 2014 web series, following this year's rally from New York City to Scottsdale, Arizona.
Here's the official day 5 and 6 videos from this year's rally. Watch as we take on two more days of Bullrun 2014!
Episode 5:
It's day 5 of the Bullrun 2014 rally, and the day begins at the Chateau on the Lake Resort in Branson, Missouri. Today's drive takes teams to Dallas, Texas, via a checkpoint in the Hot Springs National Park in Arkansas. But we wouldn't be making the checkpoint today. Our day 5 adventure saw us riding along with Team Mustang Girls, Courtney and Lisa, in their 1965 Ford Mustang. They take on the rally a bit differently than everyone else. For them it's not about speed, it's about enjoying the roads and getting to know the route. With Team Mustang Girls, there's always some unscheduled stops along the way.
[youtube]https://www.youtube.com/watch?v=2nW0fSVLl54[/youtube]
Episode 6:
Day 6 of the Bullrun 2014 rally saw the teams depart Dallas, Texas, heading for Santa Fe, New Mexico via the checkpoint at the Cadillac Ranch, and then into Amarillo, Texas, for lunch. On this leg, we joined Team Mustang Girls once again after Courtney's co-driver had to leave the rally. Today we took on the Navigator role, and though we weren't gunning for first place, we did the leg in pretty good time! After leaving Dallas at 6:00 a.m., nearly two hours ahead of the rest of the Bullrunners, the goal was to actually make it to the lunch checkpoint with the rest of the drivers.
[youtube]https://www.youtube.com/watch?v=koAjDrXOdEU[/youtube]
Stay tuned for the final videos from the Bullrun 2014 rally. On the final leg, things get quite heated and competition is fiercer than ever before! You won't want to miss it.