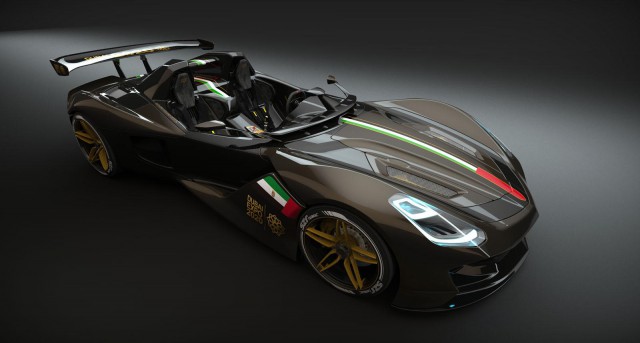 Buyers are said to be lining up to own the epic Emirati built Dubai Roadster supercar which was previewed via a host of renderings recently. It is hoped that the car will hit the market next year for 400,000 Dh or the equivalent of just over $100,000 in the U.S.
While speaking with The National, the man who helped with the design, Rashid Al Shaali said he received dozens of calls as soon as news about the track-oriented beast broke.
"I've already had four inquiries from people saying they wanted to buy the car now," he said. "I had to say, 'hold on, it's not finished yet."
From a design standpoint, the Dubai Roadster doesn't feature proper doors, a windscreen or roof, the Dubai Roadster certainly has some of the fundamental boxes ticked. Featuring a dark brown paint job, a massive rear wing, extremely wide and low stance as well as an impressively equipped cabin, the car could debut at the Dubai Motor Show 2015.
While the design of the Roadster is impressive, its powertrain could prove much more important. With the car pinned to tip less than 750 kg and fitted with a large V8 engine delivering 400 hp, the Dubai Roadster could definitely be capable of acceleration to rip your face off.
[Via The National]