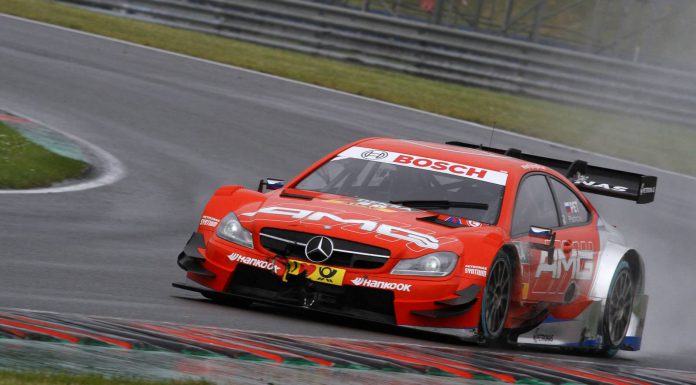 The second round of the DTM 2014 season went down at the Motorsport Arena Oschersleben in Borde Germany. Mercedes took their first win of the season through Christian Vietoris who benefited from his tyre option soon as the rain started. It was a full wet race with some drivers such as BMW's Augusto Farfus deeming it as the craziest DTM race ever and it was undoubtedly action-packed with all sorts of confusion arising from the rain.
As for Mercedes, they started the season badly off taking no championship points back in Hockenheim but this round opened way for the other Mercedes-Benz drivers. Defending champion and Audi driver Mike Rockenfeller took the second place on the podium after finishing 0.6 seconds behind Vietoris. Rockenfeller now tops the standings after that strong finish, he admitted to almost giving up during the race till his team communicated to him via the radio of his string position.
Another Audi RS 5 DTM of Edoardo Mortara finished in third to lock out the podium finishes while the Mercedes-Benz of Paul Di Resta took fourth. Farfus was the best placed BMW driver in fifth, despite the penalty he received for making contact he still managed to get more points and finish in a strong place.
In sixth place was Miguel Molina who had set the fastest time during qualifying but was disqualified on the grounds that his car was not up to the standard regulations. Rounding off the top ten was Timo Scheider in seventh place, Gary Paffett (Mercedes-Benz) in eighth, Martin Tomczyk (BMW) in ninth and Adrien Tambay (Audi) in tenth.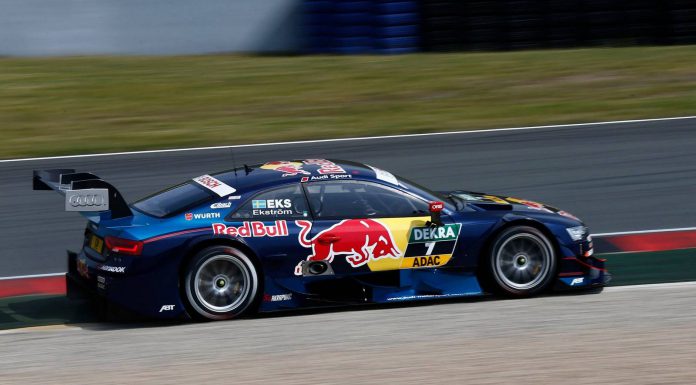 For the third round at the Hungaroring in Budapest; new regulations will come to play. The eight Audi drivers will remain unaffected just like in the first race. Mercedes-Benz drivers Christian Vietoris, Paul Di Resta and Gary Paffett will get an additional five kilograms onboard while their fellow Mercedes-Benz drivers Vitaly Petrov, Pascal Wehrlein, Daniel Juncadella and Robert Wickens will get 2.5 kilograms each. BMW drivers will shed some weight; Augusto Farfus and Martin Tomczyk will shed off 2.5 kilograms while for António Félix da Costa, Bruno Spengler, Maxime Martin, Joey Hand, Marco Wittmann and Timo Glock will shed off five kilograms each.
Drivers' Quotes:
Christian Vietoris
As we currently aren't among the front runners in normal conditions, I obviously hoped for rain. Perfect that it turned out that way. We wanted to use these chances and so we did. We had an ideal strategy. I am overjoyed. What a race.
Mike Rockenfeller:
In the DTM, it is like in everyday life. You should never give up. Today, I almost did. The tyre choice at the start of the race wasn't optimal. Then, there was some contact with other drivers and many safety car interventions. I really didn't know where we were anymore and I wanted to give up. Then, all of a sudden, my team told me on the radio that we were in contention for a top position. Unbelievable.