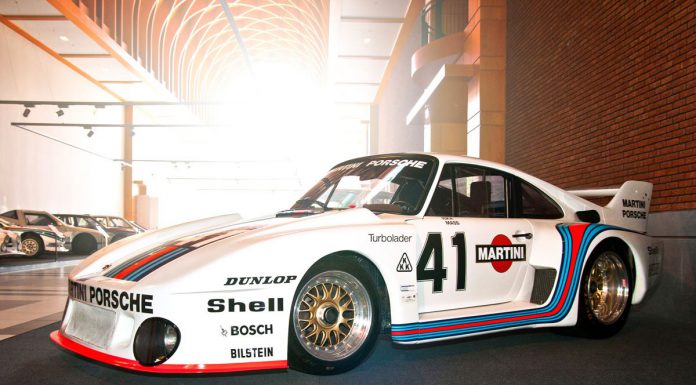 From Le Mans to F1 to rallying, Martini Racing have been written motor sports history since the 1970s. Numerous cars have been dressed in the outfit of the Italian distillery with the distinctive blue and red stripes. The latest cars to adorn the Martini colors are the Williams FW36 and the road-going Porsche 918, which has the historic livery in its option list.
Recently the Louwman Museum in The Hague, the Netherlands, staged an exhibition featuring a great collection Martini-themed cars. On display were a Porsche 911 RSR (from 1974), Porsche 935/77 (1977), Lancia Beta Montecarlo (1981), Lancia LC1 (1982) and the Ferrari-powered Lancia LC2 (1983-86). In addition to these endurance racers there were also two Formula 1 cars: the not-so-successful Tecno PA 123/6 from 1973 and the Alfa Romeo-powered Brabham BT45 that raced in the 1976 and 77 championship, with two second places as best results.
A further six rally cars were present: Porsche 911 SC Safari (1978), two Lancia 037s (1983), the legendary Group B Lancia Delta S4 that competed in the World Rally Championship in 1985 and 1986, the ill-fated Lancia ECV2 (1988), Lancia Delta HF (1992), and a Fiat Cinquecento (1993). Last but not least, there were the Alfa Romeo 155 V6 which was used in the 1995 DTM Championship, and last year's Porsche GT3 R.