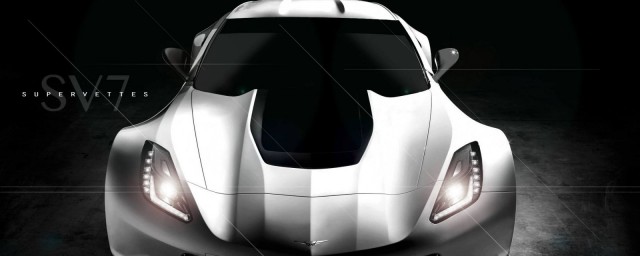 SuperVettes has just previewed its upcoming widebody kit for the Chevrolet C7 Corvette Stingray. Late last year, we brought information and pictures about SuperVettes insane bodykit for the C6 Corvette dubbed the SV8.R. While their C7 Corvette kit won't be as extensive, the American firm is promising the kit will rival the looks of the latest Corvette Z06.
As it stands, SuperVettes has only released a single teaser image showing the upgraded widebody it as well as presenting the SV7 name for the very first time. As the image shows, the car features massively flared front wheel arches as well as a redesigned hood.
When discussing the upcoming bodykit, owner and founder of SuperVettes Jason Hunkler said, "Our dealers are the best at what they do, and we are excited to be releasing the best wide body kit for the C7 Corvette. This kit will rival the looks of the new Corvette Z06, and of course, you can increase the base HP of the C7 Stingray to well beyond the standard specs of the new Z06. The rendering below shows a sneak peak into what we are currently designing for the C7 Corvette Stingray, and below, you will also see the photos and videos of the scanning process."
The bodykit will be presented in the coming months.