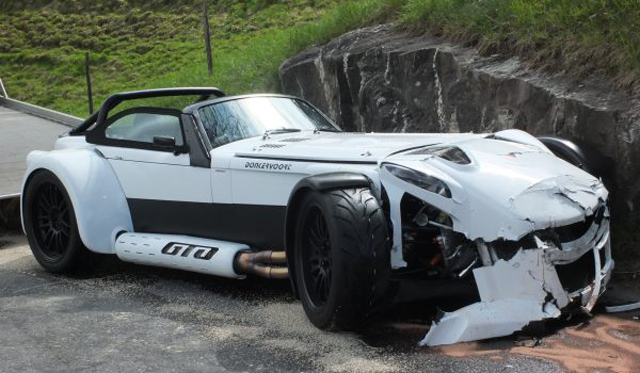 Just at the start of this year, the very first Donkervoort D8 GTOs were delivered. Well now, the very first D8 GTO has crashed just one day after the 43-year-old owner picked up the exciting European sports car.
The crash occurred in Switzerland where the rare Donkervoort hit a Mazda 3 head on after travelling on the wrong side of the road. According to investigators, the D8 GTO came quickly out of a corner on the wrong side of the road when the collision occurred. Consequently, the driver is being investigated for improper control of his car.
As the images show, the car has sustained serious damage to the front end and beneath the body work, it is very possible that some serious mechanical damage has also been done.
Built in the Netherlands, the Donkervoort D8 GTO is powered by a 2.5-liter Audi engine which has been proclaimed as one of the best engines in the world for the past four years+. The car also features exceptional performance and smooth, precise steering and manoeuvrability which can be credited to the engine and technology that has never before been used in sports cars like this. The D8 GTO is also the fastest Donkervoort to date.
Although the Donkervoort D8 GTO has been approved for the market in the European Union and Gulf States, it will unfortunately not be available in the United States.