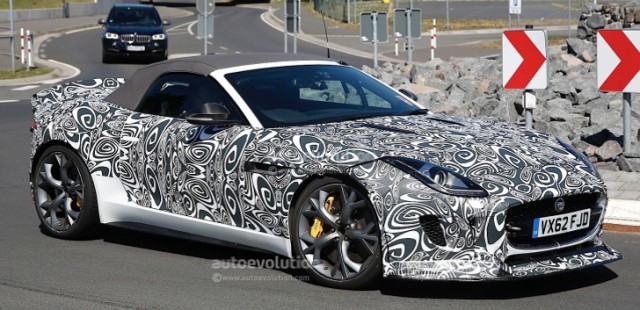 Even before Jaguar unveiled the range-topping F-Type R Coupe late last year, there was speculation that even more potent variants were in the works. Well one of those more extreme variants has been spied testing for the very first time likely in F-Type RS or RS GT guise.
Whatever the car is called, its new features are evident. Firstly, a revised front bumper can be seen through the camouflage as can a much more prominent front splitter. At the rear, a larger wing is visible as is a smoothed out diffuser. Besides these changes, nothing else can be seen due to the heavy black and white camouflage. However, under the hood, we expect some rather serious modifications to be going on.
To refresh your memory, the Jaguar F-Type R Coupé features a supercharged 5.0-liter V8 engine producing an insane 550 hp. Consequently, Jaguar promises the F-Type R Coupé can sprint from 0-100 km/h in just 4.2 seconds, 80-120 km/h in a mere 2.4 seconds and an electronically limited top speed of 300 km/h.
However, the F-Type RS and F-Type RS GT will both deliver even more power than that from the same supercharged 5.0-liter V8 engine. Of course, these aren't the only new F-Type models Jaguar is testing or considering. A four-cylinder variant is being tested as is an all-wheel drive version, a speedster and even a possible targa version!
[Via Auto Evolution]