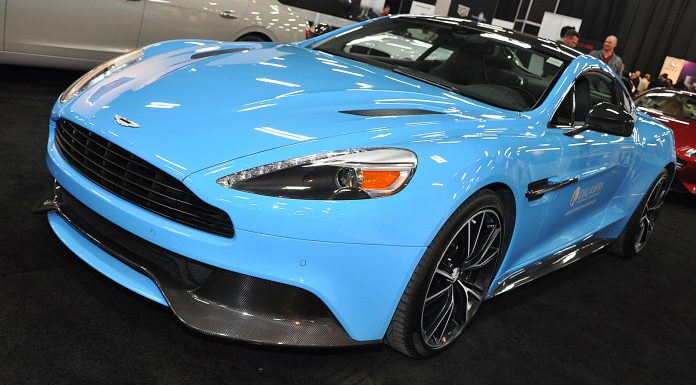 The Edmonton Motor Show took place April 10-13, 2014, and showcased plenty of eye candy. Among the exotic car vendors on display at the show was Calgary's Aston Martin and Bentley dealership, the Distinctive Collection.
Among the luxury automotive on display at the show was the true star of the show, the Flugplatz Blue Aston Martin Vanquish S featured on Top Gear, Jay Leno's garage and a handful of TV commercials. This Aston has seen 19,000km in its lifetime, which may sound like a lot for a brand new 2014 Vanquish S, but the car's story is its true selling feature.
Featured on Top Gear, James May piloted this same Aston Martin in a race across the southern United States to the Mexican border. Though James May didn't pilot the car to victory, it did receive plenty of screen time. Then the keys were handed over to Jay Leno for a special review on Jay Leno's Garage.
It was later featured on a few Playstation commercials and ultimately ended up in Calgary, Alberta, Canada, in the hads of the Distinctive Collection. The car is now for sale by the dealership.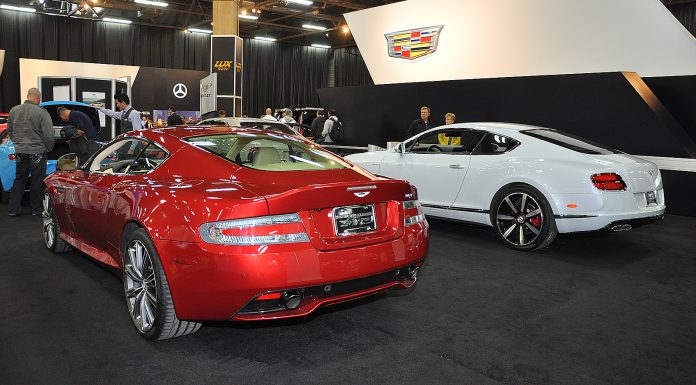 Additionally, the team showed off the 2014 Bentley Continental Flying Spur, a brilliant volcano red Aston Martin DB9 Touchtronic, Aston Martin V12 Vantage and Bentley Continental GT V8.
All-in-all, some impressive machinery. As Western Canada's only Bentley and Aston Martin dealership, having a presence at the Edmonton Motor Show gave fans of the two luxury automotive brands a chance to see the newest models and one special celebrity-driven supercar.