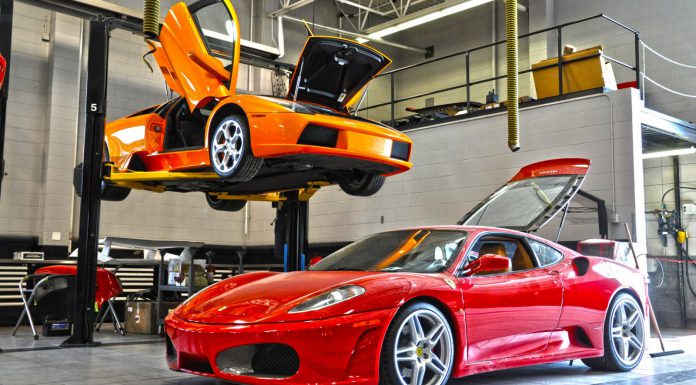 GTspirit took a trip over to Distinctive Collection in Calgary, Alberta, Canada. Distinctive Collection is a certified Bentley, Aston Martin, Fisker and Spyker dealership which also sells and services new and pre-owned luxury automobiles from Bentley, Aston Martin, Spyker, Fisker, Ferrari, Lamborghini, Porsche, Lotus, Mercedes-Benz, Audi and more.
Distinctive Collection not only deals with sales, but they service most exotic cars in their extensive repair and care care shop. During our visit, a Lamborghini Murcielago, Ferrari F430, Ferrari 458 Italia, Aston Marin Rapide, Bentley Continental GT and many others were up on the lifts receiving their summer tune-ups.
Sitting in the centre of the showroom was a silver 2009 Spyker C8 Spyder. The car has never been test-driven or moved out of the showroom since it arrived in the city. Distinctive Collection staff say that the Spyker market in the city isn't incredibly high, which is mind-boggling considering the high-end cars we've seen driving around the city over the past week. The exclusivity and rarity of the vehicle, not to mention the stand-out factor, is attractive enough that we thought at least one or two would be driving around in this affluent city by now. Distinctive Collection has only sold one Spyker – a C8 Laviolette – to an interested party in Montreal, Quebec, Canada.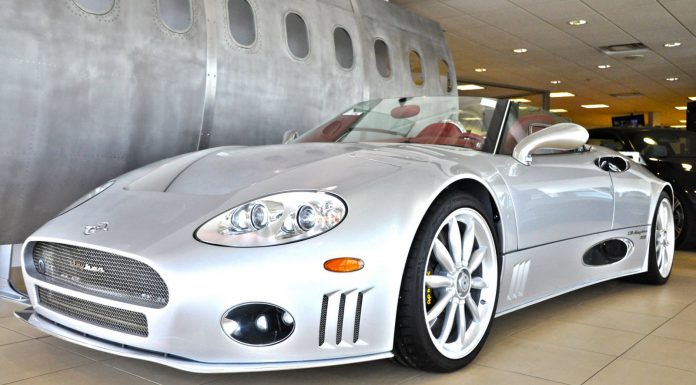 A Rolls Royce Silver Cloud pulled into the parking lot during our visit, and the owner was more than happy to let us get up close and personal with the car. He told the story of how he owned this very car 14 years ago, sold it and then re-bought it over a decade later.
The clean, state-of-the-art shop showed off so many beautiful machines, ready to hit the road for the summer driving season. For more photos, take a look at the gallery above.