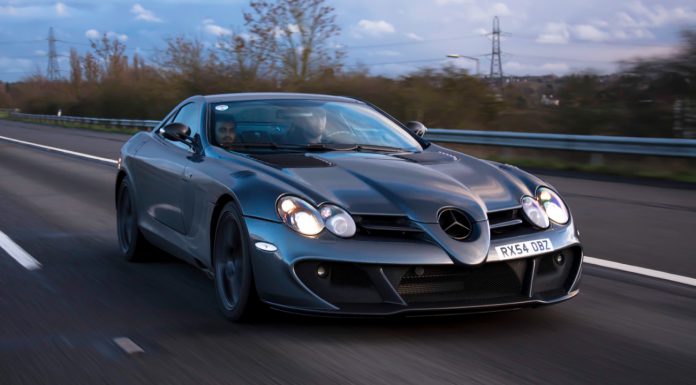 Define 'baptism of fire'. No, wait – I'll do it for you. It's a cold January evening, and a man from McLaren has just handed you the keys to a car that looks like this. As you clamber aboard – inelegantly, it has to be said, thanks to the lifting doors – a few spots of rain pepper the windscreen. You ease out of the car park, suddenly and painfully aware that you have no idea where the enormous bonnet ends – or, indeed, how much ground clearance that jutting bumper has. Nor can you easily spot any of the car's four corners, given that this thing measures a full two metres in width and you're sitting on the left-hand side in a right-hand-drive country.
Darkness has fallen, and as you slip onto a motorway heaving with jinking, stop-start rush-hour traffic, the shower turns biblical. Wind and rain lash the windscreen, and standing water has reduced both visibility and stopping distances to just a whisker more than sod all. Oh, and if you even think about straying beyond about half throttle, the back end decides it'd like to pop round and say hi.
Best get to get to grips with the Mercedes McLaren Edition SLR pretty bloomin' sharpish, in other words. I've got the length of the M3 motorway to do so. This will not, however, be a halcyon sunset blast to acquaint myself with one of the most brutal-looking supercars ever to stalk the earth. As you might have guessed already, it'll be a hellish blend of weather and traffic, garnished with a generous helping of angst and the occasional frisson of genuine, heart-in-mouth terror. Frankly, you don't want to hear about it. So while I truck on through the Tuesday night rush, let's find out a little more about this terrifically bonkers creation.
What is it? Well, it's an SLR. That much is pretty obvious. But this is rather a special one. This one's been taken in by McLaren's Special Operations department, which we had a brisk tour of before setting off, and subjected to a strict fitness regime.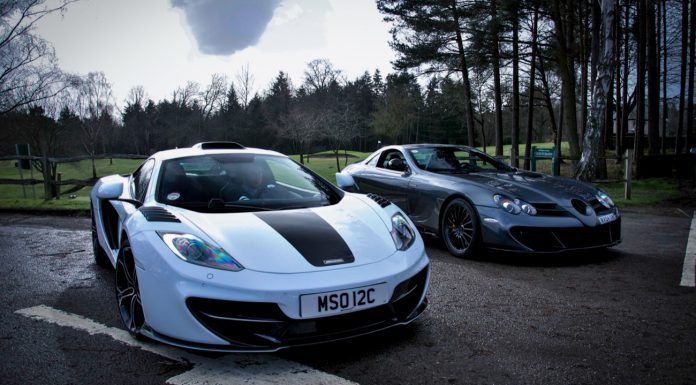 The company admits now that the standard car was flawed when it was released; a product of two different visions – Mercedes's for a bigger, faster SL; McLaren's for a supercar successor to the F1 – but one that satisfied neither. But, MSO says, it's now gone back to the drawing board, and developed a package aimed at turning the SLR into the car it always hoped to produce.
The catch? Only 25 will be available. And while MSO will sell you certain parts separately, once all 25 of the complete packages have been sold, the company won't let you build a 26th – at least, not as it stands today.
So, what does one of these desperately exclusive packages set you back? Around 134,500 euros, at time of writing. That price is exclusive of British sales tax, which adds another 30,000 euros on top if you're eligible to pay it. And that's in addition to the cost of the base car itself – a decent SLR will set you back at least 180,000 euros these days. In short, it doesn't come cheap.
Engine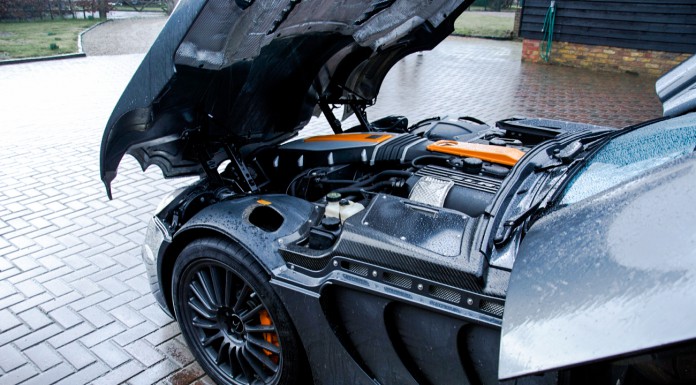 Under the bonnet, the stock SLR features a heavily-reworked version of the Mercedes M113 powerplant common to many AMG models that were available around the same time. Renamed M155 to take account of its many tweaks, it constituted a 5.4-litre V8, with a Lysholm supercharger bolted on to provide 0.9 bar of boost. So, in short, that's an AMG V8 with a thumping great supercharger. If that sounds to you like it might have had a bit of oomph, you'd be right. 625PS at 6,500rpm, to be precise, matched by a whacking great 780Nm slug of torque served up at 5,000 revs.
Power, therefore, was never lacking in the original SLR, so it's no surprise that McLaren has left the engine bay alone – for the most part. The only difference is enlarged radiators, which don't increase peak power output but ensure that the SLR's engine is producing more power across a greater spread of the rev range. There's also a new exhaust; a ceramic-coated lightweight system that's been tuned for a more mellifluous engine note. With the exception of those two changes, though, it's business as usual – if you can call it that.
Transmission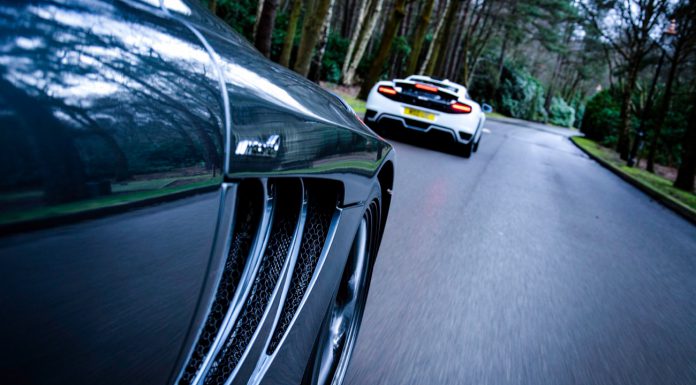 Like the engine, the gearbox has remained unchanged from the stock SLR. In other words, you get the same AMG Speedshift R five-speed torque-converter transmission. Five-speed? Yes, that's right; engineers felt that the brute force of the SLR's powerplant might prove too much for the seven-speed unit, so a more robust and more mechanically simple five-ratio 'box found its home here.
As per the standard SLR, you get the choice between two automatic and three manual shifting modes, the former taking the form of 'comfort' and 'sport', and the latter comprising three progressively harder, faster shift actions, controlled by the paddle shifters mounted on the reverse of the steering wheel.
Suspension & Chassis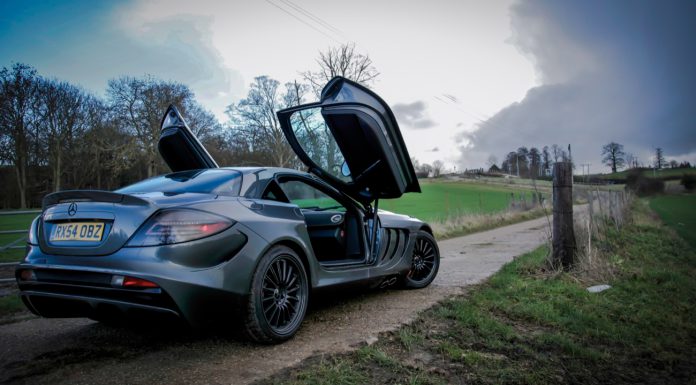 So far, so SLR, then. But don't worry: things are just about to start getting interesting. It's in the chassis department that McLaren's gone to town most of all – as you might expect, really. The centrepiece is a new handling package, developed with the aid of the company's Formula One test rig, and consisting of a mass of revisions to the stock SLR's suspension. Spring rates and low-speed bump damping have been subject to the most work, the idea having been to make the SLR feel both more pliant and more focussed. Downforce, too, has been increased by 15 per cent compared with the SLR 722 Edition, thanks to a series of upgrades to the car's aerodynamics.
It doesn't stop there, though. The steering, too, has been revised, in an attempt to drown out some of the nervousness of the original. McLaren says the turn-in is now much more progressive, and some of the standard car's less pleasant yaw and pitch characteristics have been eliminated.
Design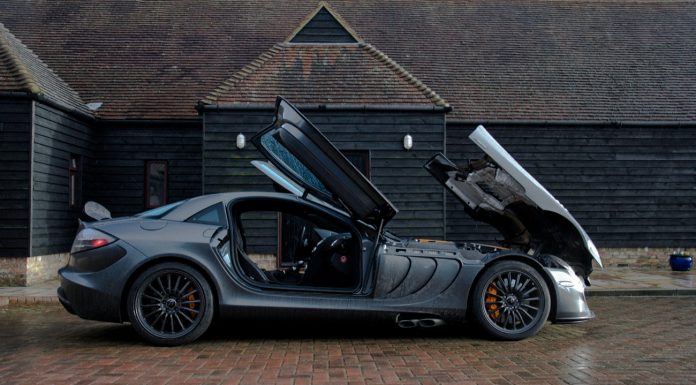 Is there much to say about the McLaren Edition that a picture of the thing doesn't? I mean, just look at it. With the possible exception of the Lamborghini Sesto Elemento, there can be few more brutally, overtly, deliberately aggressive-looking supercars than this. The stock SLR is a deeply attractive car, and pretty meaty in its own right – but park one next to a McLaren Edition and it looks almost effeminate by comparison.
In the flesh, the latter car's even more striking. From the side, the long, diving nose leads over wheels that look almost too small, to an almost comically small cockpit and a chopped-off tail end; at the rear, the huge, grey-tinted lights glow above a beefy diffuser. But it's up front that the McLaren Edition's at its most striking. The gaping front air dam and razor-sharp bumper look as though they'd sooner chop your legs off at the ankles than aid in any sort of impact protection. This is, in short, a car with a serious sense of menace about it.
Interior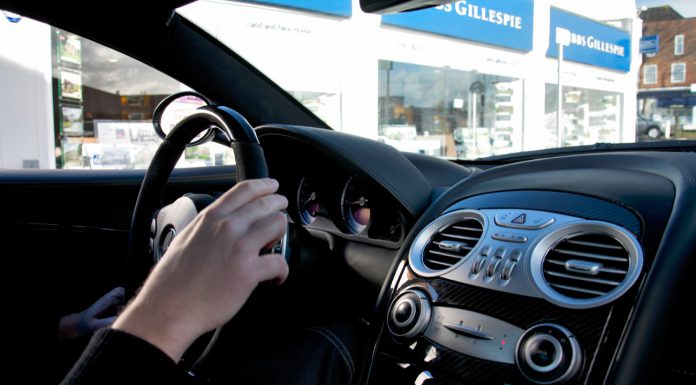 That sense of menace, however, doesn't continue to the interior. That's a good thing, because what you get instead is welcome familiarity. The SLR's dash and switchgear architecture haven't changed, though some carbon-fibre trim and a special plaque remind you exactly what flavour McMerc you're sitting in. The seats, however, are new one-piece items finished in quilted Alcantara. But the majority will be recognisable for anyone who's spent time in a modern Merc; well laid-out, easy to
use, and notably in this hard-driven 76,000-mile demonstrator, extremely well put-together.
Driving experience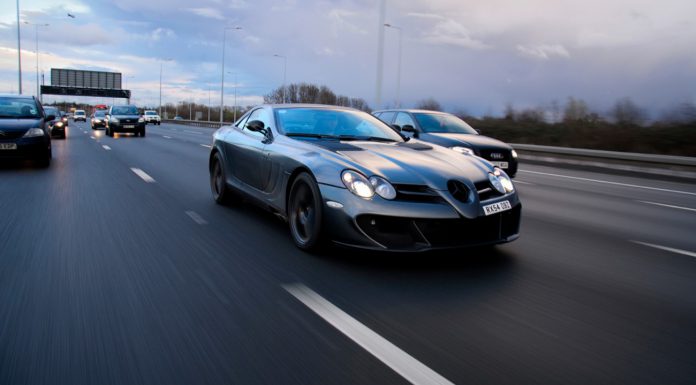 For full disclosure, I have to point out from the off that I haven't had the pleasure of driving the standard SLR. Here, then, is not the place to read a true comparison between that car and this. What I can tell you, though, is how the McLaren Edition stands up as a supercar in its own right. And the good news is, it's everything its looks would have you believe.
With the night terrors of the M3 at rush hour just a distant memory, I'm able the following morning to find some reasonably dry tarmac to give the McLaren Edition its head. But not before I've nosed it out of town. Here, having adjusted to its sheer size, it's actually a pretty docile thing to smooch around in. The auto box means there's no heavy clutch to deal with, and the steering's light and easy. It's not perfect, mind; the ride, while lacking the crashiness I'm told was a factor in the original, is still rather firm, which can grow wearing after a while. And the brakes are a struggle to get used to; the pedal is incredibly stiff, which makes moving it incrementally a real test of leg control.
But once the road opens, these quibbles are forgotten. I find a straight bit of tarmac long enough to hoof the throttle, and do it. Right the way down to the kickdown switch. The box obliges, dropping down two cogs, and that exhaust barks into life. No, actually, 'barks' is the wrong word. This isn't so much noise as air being punched violently into your eardrums. Fitted with this exhaust, the SLR doesn't grumble or howl so much as it thuds; insistently, repeatedly and relentlessly, punching you in the gut and in the head simultaneously with each walloping stroke of the engine. And with full-bore acceleration, the endless bass note is overlaid with a shrill scream; the supercharger wailing torturously as it pours air into the cylinders. These are not the musical notes of a Ferrari or a Lamborghini; this is the guttural, bludgeoning soundtrack that only an AMG Merc can make, except here it's turned up to 12.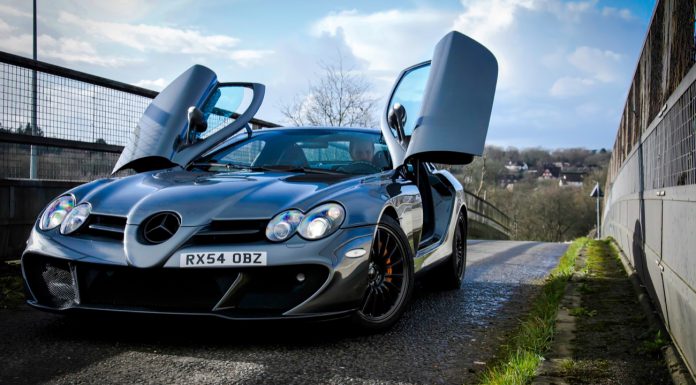 You'd spend your time revelling in the noise, but frankly, you're too busy holding on for dear life as the SLR hurtles off down the road, feeling like it's been hit up the jacksy by a rocket sled. There's a touch of squirming at the rear and you grip the wheel to make sure things don't get out of shape; mercifully, unless the road's wet, they don't. This isn't acceleration that builds to a divine sweet spot, urging you to wring the best out of it. This is acceleration that matches the way the car sounds; a huge, brawny, thumping slab of it, delivered whatever the revs.
Arrive at a corner, and things only get better. Well, for the most part. Haul on the fantastically strong carbon ceramic brakes – that pedal stiffness suddenly isn't an issue when all you want to do is stop as hard as you can – and the SLR draws up short in an astonishing distance. But that gearbox is a fly in the ointment, lacking the crispness and precision you'd desire, even in the harshest manual mode. With a bit of familiarity it's possible to work with it, pulling the paddle earlier in order to time the actual shift correctly, but it isn't ideal.
Once you get used to it, though, and get into a rhythm with the McLaren Edition, the way in which it bursts from corner to corner in a manic whirlwind of noise and power, as you grip the wheel and hold on for dear life, is astonishing. At each bend, there's poise on the way in, thanks to deliciously quick steering and huge front-end grip, both of which translate into a sharp and precise turn-in. Then, brutality on the way out, as you stoke the throttle as much as you dare, feathering it earlier than you think as you feel the rear wheels start to shift sideways. That back end is, it has to be said, flighty; get carried away, and there's no doubt that it'll bite you – though what more would you expect from a car that looks like this? Crucially, though, there's none of the uncertainty I'm told is a factor in the standard car. The McLaren Edition might be wild on the limit, but it certainly isn't unpredictable.
Conclusion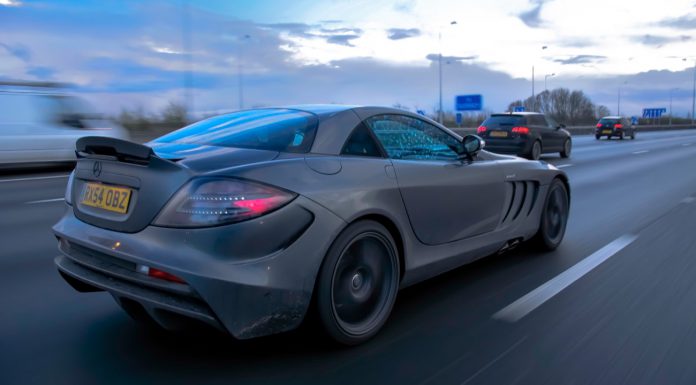 Don't imagine this car offers the grip or accessibility of some other supercars; nor should you expect the ultimate in scything precision, despite the hard work by McLaren. And though the automatic gearbox might lead you toward the idea that it's a big, comfy, mile-munching GT, that wouldn't be right, either; the ride's still too firm and the exhaust noise too intrusive for that.
What the McLaren Edition does do, though, is thrill you to your core. It delivers huge, unrelenting, savage doses of drama that terrify and excite in equal measure. This is a car that tries to smash your face off with noise, and when it fails, tries instead to tear it off with power. Treat it without respect, and it might just succeed on both counts. But work with it, humour it and use that wonderfully quick steering to your advantage, and it's a whole heap of fun. Any time, any place, what the McLaren Edition SLR delivers is a whopping adrenaline hit, on demand and without compromise. From the moment you flick open the thumb gate to access the gearlever-mounted start button, to the moment you limbo beneath the massive door to leave the car, every journey in this thing is an event; one with a sense of occasion few others can match.
This article is dedicated to the memory of Ollie Bourton and Darren Hayes, both employees of McLaren Automotive, who were tragically killed in an unrelated road traffic accident outside the factory on the day we returned the SLR. Our thoughts are with their families and all at McLaren at this difficult time.