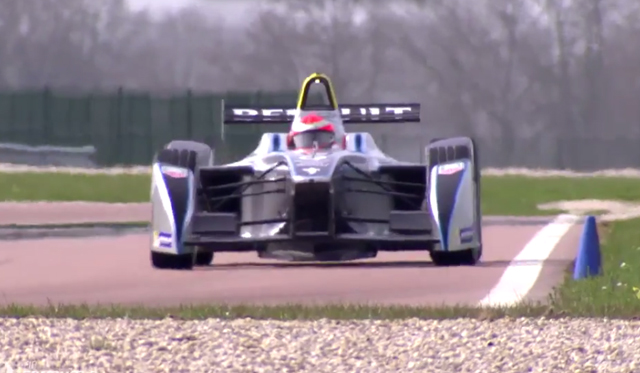 Former Formula 1 driver Jarno Trulli recently got the chance to test out the brand new 2014 Formula E racer car in full electric mode for the very first time on track.
[youtube]https://www.youtube.com/watch?v=IptBVdys-mo[/youtube]
As the following video shows, the sound of the motor is very unique and is basically a high-pitched whistle adding a really unique and futuristic spaceship like whirl unlike any other racer on the globe.
For this year's championship which interestingly doesn't start until September, all teams will use the same Spark-Renault SRT_01E. Because the Spark-Renault SRT_01E is the sole racing car, a total of 42 Spark-Renault SRT_01E's will be produced because in Formula E, instead of having pit stops to refuel (or in this case recharge), driver's will simply hop into their second Spark-Renault SRT_01E and get back on track. It's hoped that the Spark-Renault SRT_01E will only serve as the sole entrant for the 2014 season with teams then encouraged to invest in their own cars for future seasons.
Powering the Spark-Renault SRT_01E is an electric engine delivering a total of 270 hp. However, just 180 hp will generally be on tap with the additional 90 hp coming through a "push to pass" button.