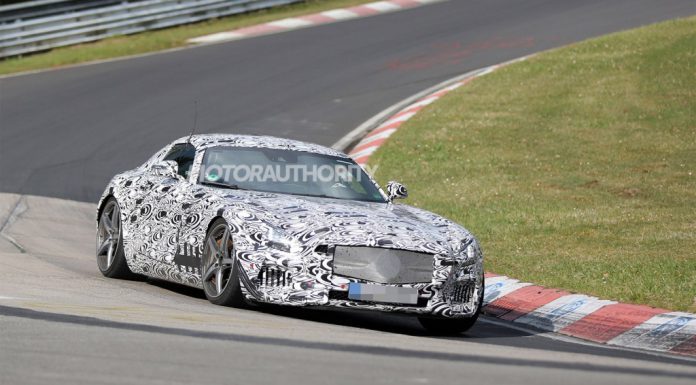 With an official debut believed to be just a few months away, the world is eagerly awaiting the 2016 Mercedes-Benz AMG GT. Designed to replace the current SLS AMG but not to succeed it, the AMG GT will come in a host of different variations and power levels to help it compete with the Porsche 911.
Recently a prototype was spied testing hitting the Nurburgring. Featuring heavy camouflage just like all other AMG GT prototypes previously spotted, the car hit the famous circuit at full speed and based on all the latest information, it promises to be an exceptional sports car.
We recently confirmed that contrary to some recent reports, the AMG GT will not feature a V6 engine. Instead, it will be powered by a twin-turbocharged 4.0-liter V8 engine expected to be available in a host of different tunes including a Black Series version.
Importantly, Mercedes-Benz will also focus heavily on reducing the weight of the AMG GT compared to the SLS AMG and thanks to a smaller body and a new aluminium spaceframe, it should weigh at least 300 pounds less.
The 2016 Mercedes-Benz AMG GT is due for its public debut during the second half of this year, likely at the Paris Motor Show 2014, and first customer deliveries can be expected next year.
[Via Motor Authority]